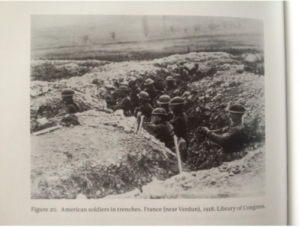 World War I & the Copper Country (WW1CC) will commemorate the Armistice of Nov. 11, 1918. The public will be welcomed with a bagpipe performance of "The Flowers of the Forest" and the distribution of paper poppies starting at 10:50 a.m. Sunday (Nov. 11) at the World War I Firing Trench (US-41 and MacInnes Drive).
The commemoration will begin promptly at 11 a.m. when bells will be synchronized to ring for 30 seconds. The Michigan Tech Joint Color Guard, consisting of Air Force and Army ROTC cadets, will present the colors. The program will include singing the National Anthem, a poem recitation, a prayer offering and a firing party (21-gun salute) by the Veterans of Foreign Wars, Hubbell post.
Taps will be played by a formation of local student buglers, followed by the retirement of the colors. The commemoration will conclude by inviting guests to drop their poppies into the trench as they disperse.
Refreshments will be offered in the Wads Annex preceding and following the commemoration. In the event of inclement weather, the commemoration will move into the Wads Annex. Free parking will be available in any of the Michigan Tech lots directly opposite the trench on US-41.