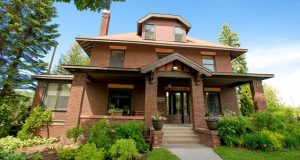 My time as the Student Media Writer at Michigan Tech Alumni & Friends has been the most thorough and engaging experience I have been able to take on as a Scientific & Technical Communications major during my college career.  I've been able to experience much of what I have been craving for work as an undergrad whether it be content production, copyediting, interviewing professionals and Tech alum, or  becoming professionally ready with programs such as the Adobe Creative Suite, web development tools such as WordPress, or collaborative tools to work with others across the office.  I have been creating Alumni Profiles on the Michigan Tech website, creating social media content, and so much more.
It's warm and cozy walking into what used to be the University President'shouse, now an office building.  The first floor is renovated into an incredibly welcoming room with couches, fireplace, and all.  The further you delve, the more you'll see incredibly modern offices, standing desks, and hardworking Michigan Tech employees!
It's here I've been able to grow my portfolio to its finest, meet and get to know professionals in my field, and make connections that'll last a lifetime.