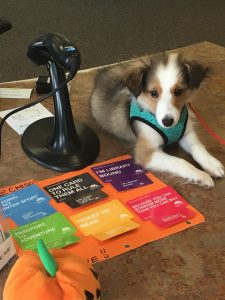 After spending a summer volunteering at a small-town library, I was lucky enough to get a fall internship at the Portage Lake District Library. As their first student intern, I was their test dummy for a lot of ideas that they wanted to try out, and every one of them was brilliant. I entered the internship with a decent amount of training under my belt, but still found myself leaving each day having learned something new about what goes into running a library.
I was led by the hand the first two weeks, which acted as my training period, but after that most of my work was self-reliant. I would check in with the staff supervisor to see where they needed me, and I would get to work. The major project I was involved in was that I organized a community learning event, doing everything from creating posters and press releases to hosting the event in the library's community room. While I was in charge of developing the event, it was overseen by the staff supervisor and library director, both of whom were integral in the learning experience.
The event that I organized was centered around digital art software and equipment. Patrons were encouraged to test out programs that I and my co-presenter had installed on our laptops and explore an art medium that many people refrain from testing. The event came together well, and despite having only a small group of individuals attend the event, it was ultimately a great success.
This experience has heightened my interest in library science and offered me opportunities to work with the library community. Before this internship I found myself lost about what it is that I wanted to do with my life, but seeing how dedicated every staff member was to spreading the love of literature has made me realize that I too would love to share that passion with others. Being able to get hands-on experience with patrons and staff members, developing a community event, and seeing the impact that this small group of people had on the community as a whole was nothing short of amazing to me.