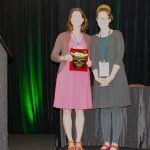 Richelle Winkler was awarded the 2017 Excellence in Instruction Award from the Rural Sociological Society at their annual meeting on July 27, 2017 in Columbus, Ohio.
The purpose of the Excellence in Instruction Award is to recognize outstanding rural-oriented teaching by RSS members at the graduate and/or undergraduate level.  Note:  Innovation in teaching and learning is emphasized. Innovation may relate to a particular course, thematic area, population of students or pedagogical approach or technique. Evidence of impact should be provided.
Congratulations Richelle!