This is a guest post from Jack Wilson, Sustainability Science & Society major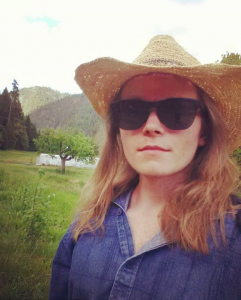 Jack Wilson interning at Marble Mountain farm during Summer 2018, an organic vegetable and herb farm in Happy Camp, California
Sustainability is about more than the development of systems designed to sustain themselves. It's also about practicing radical forms of democratic process to develop human and more-than-human communities built on dense networks of socioecological relations that allow for individuals to co-create the systems that they call home.
This feeling of home is something that has inspired me to get deeper into my work on local food system sustainability. After my first year at Michigan Tech, I transferred from Geophysics to the new Social Sciences interdisciplinary major Sustainability Science & Society. In this major, I work with a framework that studies sustainability beyond the perceived duality of human and environmental systems. Ultimately this duality is artificial, and it's necessary that we begin perceiving human systems as embedded in and interdependent on one larger interconnected biogeophysical system that is sustained through a network of reciprocal relations. Over the last year and a half, as I've become more familiar with the system of relations that comprise our local food system, I find that this feeling of home grows within me.
For those who aren't familiar, a food system can be broadly defined as all of the patterns, processes, and networks which facilitate the flow of food, from its inception to its consumption. When I tell people here at Tech about what I study, they usually respond with some variation of "really? You study the food system here? What food system?" In some sense, they're not wrong in saying so.
The Keweenaw region today produces an incredibly minute amount of food relative to that which is consumed, so we rely mostly on imported food from the fossil-fuel intensive conventional global food system. Because we rely on food grown in distant lands by the hands of unknown people, many of us don't know how unsustainable our food system actually is.
It didn't used to be this way. The conventional food system is actually a relatively new phenomena in the context of this land's human history. For centuries the Anishinaabe people derived sustenance from many of their more-than-human relatives in the region, such as fish and rice. While many Anishinaabe people still have these relations, the colonization that has occurred from the 19th century into the present has created structures of power which hinder the ability of communities to develop and maintain sovereignty over their food system. This history is vital in helping us conceive of how a more sustainable food system might be possible. While the United States Department of Agriculture (USDA) considers the entire U.P. food insecure, we can look to the Indigenous communities for knowledge about how we might actually find an abundance of food in the waters and forests of this land.
In the 2018/2019 school year, I received funding through a Portage Health Foundation Undergraduate Research Internship Program (URIP) to conduct ethnographic research studying how local farmers navigate the challenges in our local food system and identify as opportunities for improved resilience. This work was inspired and informed by classes I had taken in the Sustainability Science & Society program, including SS 4700 Communities & Research, SS 3110 Food Systems & Sustainability, and SS 4211 Ethnographic Methods. When I asked one farmer what they wished the broader community knew about the farming in the Keweenaw, they said, "I just wish they had a better understanding of what is possible."
This public misunderstanding of our food system seems to derive from the general lack of awareness about our local food system and its potential to support a more sustainable future. For example, when I ask people what they think about the possibility of developing a sustainable local food system in the Keweenaw, they often are quick to point out logistical challenges such as "we have too short of a growing season" or "we live too far north" or "the soil is too poor."
While it is true that our growing season is short relative to other places, I've learned through my research that local farmers are using cold storage technologies to allow for the preservation of vegetables for months into the fall and winter season. While it is true that we live very far north, farmers have shared with me that there's actually a number of places throughout the Keweenaw that have significantly extended growing seasons because of the way Lake Superior acts as a heat sink and regulates the climate, thus extending the season further into the fall. Further, these farmers have shared a number of technologies like low-tunnels and hoop houses which also allow for the season to be extended. Finally, while it is true that there are many places throughout the region with low amounts of organic matter in the soil, many of these farmers are working to build healthy soil over time through regenerative agricultural practices.
When that farmer told me they wished people had a better understanding of what is possible, I thought about how limited my own understanding was before conducting this research, and how that hindered my pursuit to uncover solutions to these sustainability challenges. The solutions that farmers shared with me speak to the vast reservoirs of ideas and solutions already existing in our own communities.
I will continue to pursue these questions through a Summer Undergraduate Research Fellowship (SURF) in the summer of 2019 and another URIP in the 2019/2020 academic year under the continued supervision of Dr. Angie Carter. Through my research, I've also become more engaged in our community, working at Metsa Hill Farm and volunteering with the Western UP Food Systems Council and Food Not Bombs. It's through engaging in this research and these dialogues that we can begin to develop a more holistic understanding of these systems and tailor our system interventions in a way that ensures we are working towards a world of justice, equity, and sustainability.