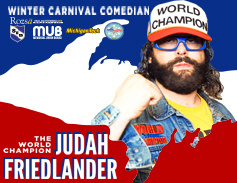 This Winter Carnival, comedian Judah Friedlander is more than just funny—he's the World Champion.
Join the Student Entertainment Board, MUB Board and Blue Key as they present winter carnival comedian Judah Friedlander.
Friedlander will headline the Winter Carnival festivities at 9 p.m. Friday, February 5, 2016, at the Rozsa Center for the Performing Arts.
On the comedy stage, Friedlander is The World Champion. He is the best athlete in the world, greatest martial artist, the desire of every woman and a role model to children. Let's face it, Judah is the greatest comedian in the world.
You can watch him as "Frank Rossitano" on the Emmy-winning "30 Rock" every night in syndication & on Comedy Central.
Friedlander has made multiple appearances on many late night talk shows including: "Letterman," "Conan," "Fallon" and "The Daily Show."
Student tickets are $5 and available for purchase at the Central Ticketing Office in the Student Development Complex with a valid HuskyCard. Non-student tickets are $15 and can be purchased online, by phone at 7-2073 or at the Central Ticketing Office in the SDC..
Note this show may not be suitable for young audiences, the show will include adult humor and strong language. Parental discretion is advised.