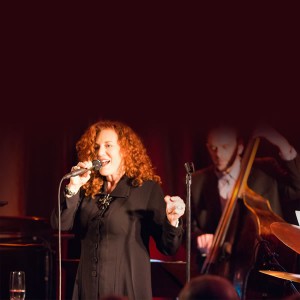 Visiting Jazz vocalist Kathy Kosins will be giving a jazz vocal master class on Friday, March 27, from 4-5PM on the Rozsa Stage. She will work with three local vocalists, and demonstrate a variety of helpful information. This event is free and open to the public. She will be accompanied by members of the Michigan Tech Jazz Lab Band.
Ms. Kosins will perform in concert the following evening. Michigan Technological University's Jazz Studies program presents the Don Keranen Jazz Memorial Jazz Concert with Special Guest Kathy Kosins at the Rozsa Center on Saturday, March 28, 2015, at 6:00 PM. Please note this time changed due to a possible Portage Lift Bridge Closure.
Kathy Kosins is an American singer specializing in jazz and R&B; she has shared the stage with many jazz greats, and most recently she performed with contemporary jazz legend Herbie Hancock. She is also an ASCAP award winning songwriter and modern abstractionist painter. Kosins has recorded several CDs under her own name and was first known as a singer of soul, rock, and pop singer having worked extensively with the bands Was (Not Was), Slingshot and recording artist Michael Henderson. In more recent years she has become an internationally known jazz singer; as a multi-media artist she also incorporates her painting into those live presentations. For more details: http://www.kathykosins.com/bio.php
Tickets are $13.00 for adults, $5 for youth (17 and under), and free for Michigan Tech Students with the Experience Tech fee. To purchase tickets, call (906) 487-2073, go online at rozsa.mtu.edu , or visit Ticketing Operations at Michigan Tech's Student Development Complex (SDC), 600 MacInnes Drive, in Houghton. SDC box office hours are 8:00 AM – 9:00 PM, Monday-Friday, and 8:00 AM – 7:00 PM Saturday and 12:00 noon – 8:00 PM on Sunday. Please note the Rozsa Box Office is closed during regular business hours, and will only open two hours prior to show times.
For more details, please contact Michael Christianson, 906-487-2825, mchristi@mtu.edu.