"New Music for a New Year: Music from the North Woods," a festival of three unique concerts will take January 19th and 20th. The event is presented by the Rozsa Center for the Performing Arts, the Department of Visual and Performing Arts and Libby Meyer (VPA) director of the Music Composition Program.
The festival is a series of concerts of contemporary music written by composers either from or who have lived in the Upper Peninsula. The concerts feature Houghton native Elena Ruehr, composer and award-winning faculty member at MIT.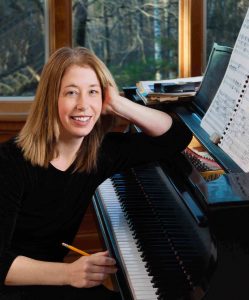 There will be a Master Class presented by Ruehr at 3 p.m. January 19th in the McArdle Theatre in the Walker Arts and Humanities Center, featuring a recital of music by student composers.
The festival continues that evening with an intimate evening "Backstage" performance at 7:30 PM in the Rozsa Center, featuring the music of Evan Premo, Libby Meyer, Thomas LaVoy, Abbie Burt Betinis, Carrie Biolo,  Patrick Booth, Christopher Plummer and featuring Elena Ruehr's Third String Quartet.
The final concert will take place at 3 p.m. January 20th in the McArdle Theatre with music by Griffin Candey, Josh Loar, Sarah Rimkus, Milton Olsson, Stephen Rush and featuring the piece "Lucy" by Ruehr.
The Upper Peninsula has produced and inspired many talented composers and performers. "New Music for a New Year" will feature a number of these composers whose work is as diverse and beautiful as the landscape that inspired them.
Ruehr's recent two-CD release was selected as Gramophone Critic's Choice in December. Gramophone, the world's leading classical music publication, described Reuhr as "A new, living master of the quartet medium."
The concert will feature the Superior String Alliance String Quartet, ConScience Chamber Singers, and two works by Ruehr performed by her Third String Quartet (Saturday) and "Lucy" (January 20th) a work which will feature ConcertCue, a web application developed at MIT for streaming synchronized program notes during a live musical performance.
Meyer's interest in natural soundscapes, conservation of special places and curiosity about the relationship between the arts and the natural world fuel her work. She is a co-founder of the Keweenaw Soundscape Project established to aurally document the Keweenaw region and surrounding lands for ecological, social and artistic value, has served as an Artist in Residence at Isle Royale National Park and has written a number of compositions inspired by the landscape.
Note the Saturday matinee concert is free. Tickets for the Saturday evening and Sunday New Music for a New Year festival concerts are on sale now. Tickets are $15 General Admission, $5 for youth and no charge for Michigan Tech students with the Experience Tech fee.
Tickets are available by phone at 487-2073, online, in person at the Central Ticketing Office in the SDC or at door before the performance. The box office opens approximately one hour prior to performances.