Wednesday, October 10th, 2012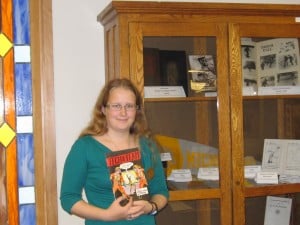 A new exhibit in the reading room of the Michigan Tech Archives explores 125 years of history at Michigan Technological University. Documents and memorabilia make up the exhibit, showing how the University has grown and changed with time. The University's unique culture can be seen in everything from a class catalogue from 1890 – when the University was still the Michigan Mining School and focused on training mining engineers – to a range of Winter Carnival promotional buttons. The exhibit was created by Archives' student assistant Annette Perkowski.
The Michigan Tech Archives is open Monday through Friday from 10:00 a.m. – 5:00 p.m. and is located on the ground floor of Van Pelt and Opie Library. For further information e-mail copper@mtu.edu or call 906-487-2505.