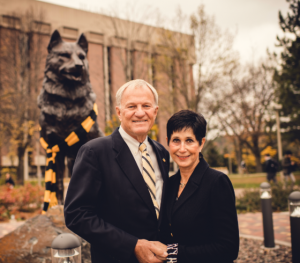 On June 30, 2018, Glenn D. Mroz will step down as Michigan Technological University's ninth president and return to the faculty. Additionally, Gail Mroz will retire from her position as stewardship officer in the Department of Advancement and Alumni Engagement. All alumni are invited to celebrate President and Mrs. Mroz's transitions.
A celebratory reception will be held Thursday, June 7, 2018, from 4-6 p.m., with remarks at 4:30 p.m., in the Rozsa Center lobby on the Michigan Tech campus. Nothing would please Glenn and Gail more than to celebrate their transition with you over hors d'oeuvres and beverages.
In anticipation of the festivities, the University is collecting personal messages and memories that will be shared with Glenn and Gail at the reception. Those with best wishes, fond memories (including photographs), and notes of appreciation are encouraged to send them to Mroz2018@mtu.edu by May 18, 2018.
Please RSVP by phone (906-487-2200) or email jetapani@mtu.edu by May 23, 2018.
A block of hotel rooms has been reserved. Those interested are encouraged to contact Joan Tapani (906-487-2200 or jetapani@mtu.edu) for more information.