By Emily Riippa | University Archives and Copper Country Historical Collections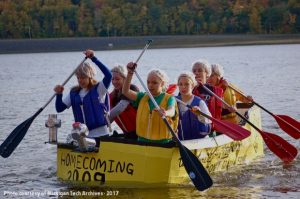 In almost any circumstances, a person would have serious second thoughts about getting in a boat made of cardboard. These aren't just any circumstances, however, and these are no ordinary cardboard boats.
Those who may have missed this part of homecoming tradition should know that cardboard boat races–dare we call them regattas?–have been a part of Michigan Tech's homecoming activities for well over a decade. The intrepid crafts seem to have first joined the Friday night fun in 2005, when students gathered at what is now Kestner Waterfront Park in Houghton for the big launch. A pep rally got Huskies fired up about getting wet before, in caulked and duct-taped cardboard splendor, teams of students took to the Portage Canal and hoped to stay afloat. Unfortunately, the record of which team took first place honors in this inaugural race does not seem to have been preserved.
By 2006, the cardboard boat race had been thoroughly embraced by the student body, and organizers had codified the rules for competition. An article in the Michigan Tech Lode that year explained that at least eight team members had to be in the boat for the entry to be legal. Judges awarded points on the basis of design qualities and speed in completing the race–or, in the event of "large variety of things that go entirely wrong," portion of the course completed.
Over the years, cardboard boating at homecoming has seen some tweaks and the introduction of new elements. A 2007 race saw teams, in the words of the Lode, "man-power[ing] their way through a watery obstacle course." Spectators that year witnessed a thrilling four-way tie as Sigma Tau Gamma, Healthy Living House, Midnight Express, and Shangri-La all secured the grand prize. The location of the cardboard boat races has also jumped around, from Houghton to Hancock and back to Houghton.
What's remained constant? Husky spirit and ingenuity, for one. It isn't every school that could manage to fashion cardboard and home supplies into a craft that actually floats, but Michigan Tech students do it year after year. The sheer audacity of the competition is another pillar: It takes a certain kind of guts to be willing to sail a cardboard boat on a lake not known for being warm and gentle. Last but not least of all, the fun never changes. As long as there's cardboard to be had and Upper Peninsula water to launch it into, Huskies will be grabbing their friends and racing their way toward the finish line, sparking laughter and creating memories that will endure long after graduation day.