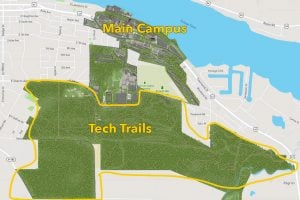 Depending on when you were on campus, your memories of the Tech Trails may be much different than what they are today. Michigan Tech's 540+ acres of forest just up the hill from the main campus mall has seen many different uses and iterations over the years.
Currently, the Tech Trails are one of the nation's top Nordic skiing facilities. It has hosted numerous U.S. Ski Association (USSA) Cross Country National Championships in addition to regional college races in both skiing and cross country running.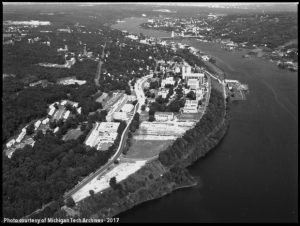 In its past, we've heard stories about the Trails being used for dirt bikes, snowmobiles, camping, ROTC exercises, and even hunting.
Mike Abbott has a long history at Michigan Tech and was part of the group that developed the Trails. "When I started working here, the Trails were just a path in the woods. We used an old box spring pulled by a one-lung snow machine to groom snow for skiing."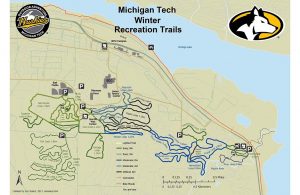 Now, the facility boasts nearly 40 kilometers of groomed trails (7K of lighted ski trails for early morning or evening skiing in the winter). In the winter, uses include skiing, snowshoeing, snow (fat tire) biking, and skijoring (skiing while being pulled by a dog). Running, biking and dog walking are popular uses in the summer. The use of the Trails for mountain biking continues to grow with two flow trails and a pump track available along with the 40K of regular trail. Other portions of the Tech Trails acreage are used for paintball in addition to the Tech Outdoor Adventure Program's high ropes course.
A big reason why the Tech Trails have evolved into an outdoor recreation wonderland is former president Glenn Mroz.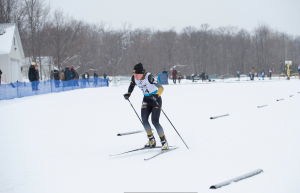 In 2001, Mroz and several others devised a plan to develop the trails as a way to secure funding for the Michigan Tech varsity Nordic skiing program. The vision for the project also included the creation of a facility that would be a differentiator for the University and attract outdoor-loving students.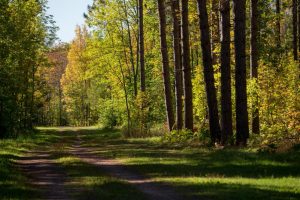 Mroz, who was then dean of the School of Forest Resources and Environmental Science, proposed that revenue could be generated from timber harvesting to support the team and upgrade the Trails. Since 2002, the facility has gone through numerous upgrades: enlarging the stadium area and widening trails to host races, building bridges and stopping erosion issues, adding buildings to house equipment and provide space for ski waxing, and installing signage throughout the trail system.
So how did you use the Tech Trails? Leave your comment below.