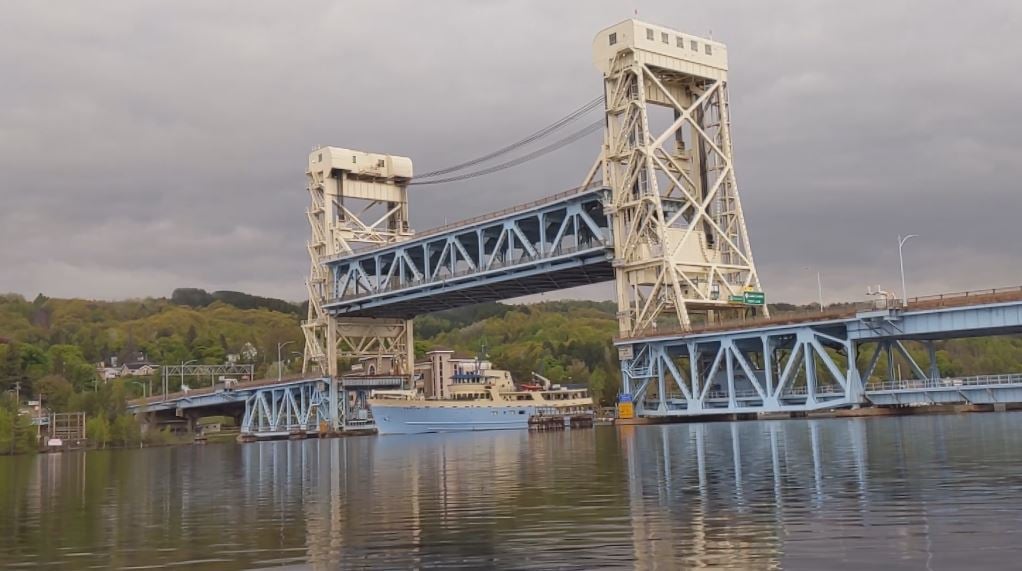 From  "Students Tap Into the Science of Brewing" on Facebook
"Brewing is the perfect blend of art, science, engineering and magic!" -Jeff R.
"I wish they had this when i was there! All good though, i am in the brewery industry now!" -Ted M.
On "Houghton will be hitting 70 degrees today!" on Facebook
"Driving out to the beach by breakers and just watching the waves and sun!" -Denise L.
"1970 laying out in swimsuits and using Co-Ed Hall as a wind breaker." -Suzanne B.
"Summer… Heading out to Hancock Beach with friends and the Pig Roast at Al's Halfway" Greg S.
"18 inches of snow, on MAY 01, 1984 (MAY 01); summer — both summers of 1987 and 1988, in graduate school" -Todd H.
"Between my Freshman and Sophomore years, I visited in mid July and camped at McLain. I remember reading a book on the beach by natural light until about 11:00 at night!" -Brady L.
"My best spring memory is the snow of every morning in Houghton every day i get up i see the mixture of winter and spring blue sky, birds sing everywhere and a thin layer of snow cover the land what wonderful morning" -Kaouther B.
"Spring Fling Party at Theta Tau…at the old house" -Greg S.
"Sailing on Goldilocks in the Onigaming Yacht Club" -Jim M.
"I spent 2 summer semesters at MTU and the weather was unbelievably beautiful. Actually had a heat wave come through and had 2 big box fans going in my room in West McNair." -Thomas S.
"I was in school 1980-1984, remember the happiness of snowmelt and enjoying the sun and doing bud burst check for Forestry. The first summer I got there beautiful weather, temps and my first introduction to the grand and cold Lake Superior " Diane W.
"I did my civil engineering summer survey work in 1961. Houghton County has the biggest baddest Mosquitos and Black Flies in all of North America. As I revisit campus I point out the WMPL radio tower across Portage Lake and tell any who will listen that I once determined the bearing from a pin on the hill behind campus across to the base of that tower." -Bud P.
From "Pep Band Truck Memories" on Facebook
"New parent here. So this is the pep band truck?! My son is so excited to play. He marched and played in pep 4 years in high school and cannot wait to joint the fun. And he does play a mean trumpet! Have to say!" -Julie M.
"No truck in my day (95-00). But we did take a bus to Milwaukee to play at an Admiral's hockey game and played at the downtown mall." -Chris R.
"Teaching the crowd the ORGY Chant (Teamwork) during Halloween, dressed as an angel. I think it was my Junior year. 2001/2002." -Ward R.      
"Was part of the band when we got the first overalls. Concertmaster with Don Keranen. Lots of cowbell at hockey games at the Dee!" -Paul G.
"I remember Jake and I creating the "Bull Sheet" in an empty math class room. We used the Daily Bull, blew it up, then put it on a transparency. We were going to hand write the lettering, but then I thought the bull looked so good, it deserved better. So, got on MS Word and found a decent font, typed it up, and put it on a transparency slide too. I can't remember if it was 2001 or 2002. I used the picture of the Bull to put it on a paper plate and on a stick, so make a "bull stick".. The Bull Stick didn't quite have the staying power as the Bull Sheet. I would take it to basketball games, hold it up, and yell "stare at it for hidden meaning".." -Ward R.  
 " Truck? We didn't need no stinking truck in the 80's. We had all possible color of overalls. I was one of the first to wear the black and gold, but we had Red/Which, Red/yellow/ White. Got to go to the playoffs once, And I'm pretty sure my band was one of the reasons we were banned from NMU stadium :-)" -Mary S.
"I was one of the leadership staff members who proposed getting a truck of our own years ago. Just based on how often we used it, especially with more road trips, and how much motorpool was charging us. Nice that they finally made it happen! Shame it was only after I left. Haha" -Matt B.
" We didn't have any truck nor wore black and yellow overalls when I played in the band 65 to 68. We played in the balcony in Dee Stadium. Never played at GLI but did go to Duluth two years. All male band at that time." -John D.
" My very first parade with the pep band. I don't remember a lot, but I do remember the BA!s playing tag, walking through Burger King, and a small group of us ended up behind some of the crowd watching yelling, "how bout that pep band!" To get them to cheer, then turn and laugh.
"Overall, I knew this was the perfect, crazy, funny, witty group for me. I already had a leaning towards being that kind of a sports fan, but the pep band really allowed me to spread my proverbial wings having fun, and adding a lot of commentary during games, that I do hope was mostly funny and witty. I still act that way now. It usually is a hit with the crowd around me. Especially when I was living in New Orleans. Now, that's a town that understands fun." -Ward R.
"We had to hand carry our stuff (1977 – 1982), up hill in both directions, day and night, and in the snow (only from October to June)…" -Ken S.
From "Houghton will be hitting 70" on Instagram
"Swimming at Bete Grise after a day of surveying summer camp"  -dogsma02gkk
"anything summer related our group did up there haha" -lol_epa_5.8
"Houghton Beach and surveying Mt Ripley during summer surveying" -mtuhusky4life
"Hitting the beach at Chutes and Ladders Park after spending the day locked in the lab." -kittylatuszekart
"My wedding ❤️at the MUB Ballroom decorated with local summer wild flowers!" -mayramor24
From "Hey Huskies, Name these falls!" on Facebook
"Memories with Jessica D. t and Natalie there. One summer in undergrad we made a bucket list to visit as many falls in the UP as possible together… We had an awesome time exploring" – Jennifer J.
"I believe this is Sturgeon River Gorge. ?? If so, I took my Orientation team there at the end of O-week one year. Purely thanks to the two students who were lifeguards wading downriver from me, it is the only water jump I have ever made." -Meghan M.
" Canyon falls. You need to go to the 33 foot drop to jump in!!!! hopefully there's still a rope hanging there to get back up" -John V.
"I was last there in November 2017. The spray was freezing on the rock walls. MTU 1977." -Kenneth H.
From "Flowers are blooming here in Houghton!" on Facebook
" I loved the spring but hated the black flies" -Denise E.
"The main thing I miss about Houghton in the Spring, is that it meant the end of the school year was in sight. And I'd go back to Detroit to make money in the summer. To come back in September and start it ALL OVER again….." -Courtney F.
"I was beginning to wonder if UP was skipping spring and summer altogether this year" -Denise L.
"Spring…. I always liked that day." -Andrew W.
"I miss the long UP summer days! It stays light so late" -Sarah W.
"Great lift Bridge. I remember blasting the new road entrances to the bridge on the Houghton side and the old concrete swing bridge structures circa 1961." -Robert M.
"I miss the bitterly Nort cold winds, blowing horizontal snow, and the 30 or more below zero straight temperatures going for an 8 o'clock In the Hubble Hall…. shows my age. This was never da Tech dat down for enyting Ya but, ya den, er Ok just kidding. 🗜" -Dennis J.
From "The Ranger is out to Isle Royale" on Facebook
"I worked at the lodge the summer of 1975! Great hikes, cruising around the island and the Moose . After 42 years I am returning for a weekend long visit in a few weeks ! No snow I hope !" -Jan G.
"Went mid Sept 1984, for 4 days. Took the smaller boat from Copper Harbor, got seasick going to Rock Harbor. We about had the island to ourselves. Virtually no bugs. Beautiful. Great memories" -Steven B.
"I crewed on the Isle Royal Queen a couple times. Good times." -Tony W.
"I enjoyed a fabulous week on the Island back in the summer of "77"." -Kevin D.
"Hubby and I went there for our 25th wedding anniversary. Gorgeous weather, best memories." -Chris P.
"We hgt took orange royal right after graduation, was awesome . Loved the loons in the morning!" -Dan
"Went there with the Mariner Senior Girl Scouts when I was a senior in high school in June 1961. Got sun poisoning while there. Who would have thought. Great memories." -Irene W.
"I have taken so many to the Island. Flown out, Ranger out, maybe time for a kayak before I get to old!" -Jan B
"My introduction to the area was a Troop 13 Boy Scout Trip to Isle Royale in 1972 with Russ Ferguson and Mark Hawkins. A trip of a lifetime with lifelong friends. MTU Mechanical Engineering 1980."  -Jeff S.
"Taking 45 min. to cook our pancakes one at a time on a 1 burner backpack stove, all of them peppered with black flies." -Tom W.
On "When did you Become a Husky" blog post
"I became a Husky when the other 5 members in my carpool from L'Anse transferred or flunked out and I had to find a place to live in Houghton and became involved in lots of activities at Tech outside the classroom." -Robert L
"So glad to see continued numbers of engineers graduating again this year. I am from the class of 1980 and I was hired several times during my career because I was a graduate of MTU." -Linda H.
"I became a Husky on that late September Saturday in 1967 (classes started the last week of September in the good old days) when a fellow Fraser High grad and myself arrived for the first time. The Wads RA came to us and said "come on we're all going to see a movie" – I knew it was the place for me." -Greg S.
"I was in 5th or 6th grade when the family drove into town on US 41 from Chassell on a camping vacation. We passed the sign which said "Welcome to the Michigan College of Mines and Technology". I thought that was SOOOooo cool, and determined then and there that I wanted to go there for college. And, so I did. I became a Husky during my first quarter by absorbing Huskyism from the older students I was surrounded by. I believe God gave me the unique skills I have to be an engineer, and I've had the privilege of honing those at MTU, and using them through my 43 years (and counting) career in the mining industry." -David P.
"I became a Husky in 1971, a few minutes after entering Doc Berry's CH101 lecture. Four years later, I shared an elevator in the ChemMet Building with Doc Berry. I was flabbergasted when he still knew my name!" -Dave C.
"I became a Husky when I was in 5th grade when I decided to become a forester. I graduated in 71 with a degree in forest management. I went on to complete a 38 year career with the US Forest Service as a reforestation specialist and timber sale officer, in N. California. What a great time I had at Tech with G. Hesteburg, Hammer, and Johnson to name a few." -Fred K.
"I guess I became a Husky in 1961 when my family moved to the top of Center St. in Hancock. My dad got a job teaching business law at Tech and that was that. I ran off to the Navy after HS and found out what I didn't want to do so I came back and went to Da Tech when I found out what I really WANTED to do. I joined the Vet's Club and started running around with this girl after I ran into her on the ice rink… 45+ years later the rest is history." -Jeff B.
"I became a Husky for a few reasons: I grew up in Calumet; my oldest brother was in the MTU Class of 1972; and, several of my friends went to MTU." -Daniel K.
"I grew up in L'anse, and always felt an attraction to Tech. But my time as a Husky started when i received my acceptance letter to Tech in September of 1987. I was the first in my high school class accepted to not just any college, but clearly the best college! Since then, i have two degrees from Tech, and have lived and worked all over the country." -Andrew L.
"I became a Husky back in the early 60's helping my Dad survey around the library as the road M26/US41 was re-routed to where it is today. I was 6. Growing up a little north of Tech, I was able to follow and attend hockey games at the Dee and Winter Carnival. It was an obvious choice to attend MTU, being the best value for the money and close to home. Education at MTU has provided me with an exceptional career and one that I continue to love." -Michael P.
"I became a Husky in 1962 when they had National Champion Hockey teams (with Tony Esposito) playing at Dee. I went to MTU because it was and still is the best engineering school in Michigan. I liked the small campus. School size was 2700, slightly larger than Muskegon High School, 2100 for three grades. I have MS in Transportation Engineering from MSU but the campus is huge. At MTU I learned to drink beer, eat pasties and crude persona. Tough school but I made it in 4 years, barely." -Randall T.
"Oh, yes I became a Husky in September 1967, I was involved it seams in everything, except Hockey…." -Frank T.