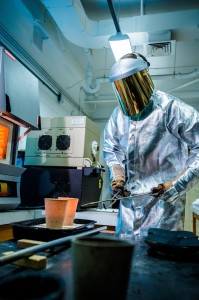 Michigan Tech's Advanced Sustainable Iron and Steelmaking Center (ASISC) will host its annual meeting in Houghton, in this August 7-10, 2018. The ASISC annual meeting is a gathering of professionals from the mining and mineral processing industry. New Paradigms in Mineral Processing Technologies is this year's theme.
ASISC members pool resources to address a diverse spectrum of interdisciplinary research questions. During the meeting they share their work and experiences to further the development of a new generation of sustainable, economical mineral processing technologies.
On August 7-8, the ASISC Fundamentals of Minerals Processing Short Course will provide a general introduction to practical minerals processing. The course includes both lecture and laboratory demonstrations. Topics are tailored to attendee needs and requests. Hands-on laboratory work, performed by registered members, is the highlight of this course. The short course will be located on the Michigan Tech campus in the Department of Chemical Engineering
On August 9-10, industry leaders and research engineers will deliver mineral processing research presentations at the Magnuson Hotel in downtown Houghton, a 10 minute walk from campus.
Learn more and register online here.