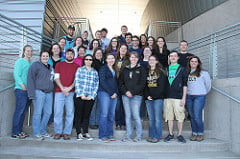 Michigan Tech submitted its official fall enrollment figures to the state last night.
Undergraduate enrollment totaled 5,827. New first-year undergraduate enrollment rose 8 percent over last year with 1,580 students starting classes last week, 119 more than last year. This is the largest incoming undergraduate first-year class since 1983.
Majors in computer science, general engineering, environmental engineering, mechanical engineering technology and forestry saw some of the biggest gains. The academic profile of the entering class has never been higher, with an average ACT composite score of 27.2, compared to 26.8 last year. And Michigan Tech has never had a more domestically diverse undergraduate entering class, with 9 percent of this year's entering class composed of underrepresented populations.