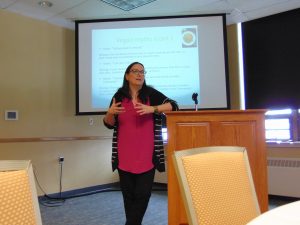 On March 6th, Silke Feltz, PhD candidate who studies the rhetoric of veganism, gave an insightful and thoughtful presentation on veganism, while attendees enjoyed a vegan sampling menu catered by the MUB.  Dishes included lentil soup, quinoa black bean salad, jerk tofu stir fry, and a chilled coconut pumpkin mousse.
Silke defined veganism for the crowd, discussed what the world eats, and covered tips and myths about transitioning to a vegan diet.  She also provided a wealth of resources.  On behalf of WorkLife Connections and Employee Wellness, thank you to Silke and our volunteers who helped facilitate this lunch & learn.
If you were unable to attend this event and would like more information about going vegan, email Shannon Brodeur  for a copy of the presentation.