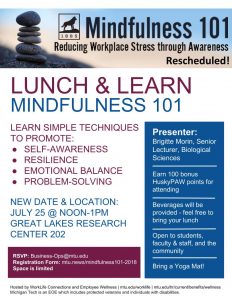 Learn simple techniques to promote self-awareness, resilience, emotional balance and problem-solving with the Mindfulness 101 Lunch and Learn, presented by Brigitte Morin, senior lecturer in biological sciences, and hosted by WorkLife Connections and Employee Wellness.
The presentation is rescheduled for July 25, from noon to 1 p.m. in the Great Lakes Research Center Room 202. Space is limited so please register in advance. 
Bring a yoga mat!
Feel free to bring lunch; beverages will be provided. This free event is open to faculty, staff, students and the community.
HuskyPAW members will receive 100 points for attending this event. Questions? Contact Business-Ops@mtu.edu.