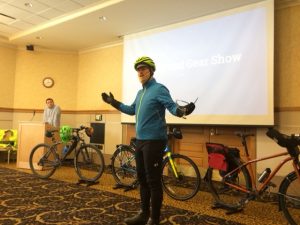 On April 11th, members of the Campus Bike Initiative and Bike Initiative Keweenaw were on hand to discuss the how-to's of bike safety, commuting, and local resources for cyclists.  The audience was also treated to a fashion and gear show and learned how to dress for all kinds of cycling weather.  The group addressed specific questions related to biking across the bridge, how to maneuver through downtown traffic, and where commuters can clean up on campus.
Check out The Daily Mining Gazette, April 12, 2018, for a summary of the event.
If you were unable to attend this event and would like more information about cycling in our area, contact Shannon Brodeur  for resources.