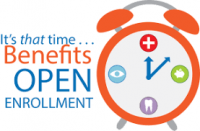 Due to the changes on how benefits will be offered, it is very important that faculty and staff attend one of the Benefit Forums and use the tools and resources provided to learn more about the Husky Flexible Benefit Plan.
An enrollment call center will be available for the rest of the month from 9 a.m. to 6 p.m. during the week. The call center may be reached at (855) 874-0198.
The Call Center schedule is as follows:
Employees with Last Names A- J to call Nov. 13-16
Employees with Last Names K-Q to call Nov. 19-21
Employees with Last Names R-Z to call Nov. 26-28
Open to ALL to call Nov. 29-30
2019 Open Enrollment is now open and will go until midnight Friday, Nov. 30. This year the enrollment process is mandatory. Current coverage and elections will not automatically roll over. Open Enrollment will be on MyMichiganTech and can be accessed using this link.
There is one remaining Benefit Forums for 2019 Open Enrollment:
2 p.m. to 3:30 p.m. Tuesday, Nov. 20 in MUB Ballroom B
If you have any questions, contact the Benefits Office at 7-2517 or benefits@mtu.edu.