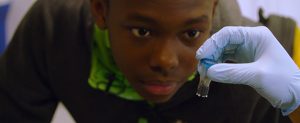 American Factory, Human Nature, and Scream, Queen! My Nightmare on Elm Street lead the 41 North line up tonight as the film festival opens its four-day run in the Rozsa Center for the Performing Arts.
HUMAN NATURE, a film that tackles the science and ethics of editing the human genome, screens at 7:30 PM. A panel discussion and Q&A will follow the film with Dr. Paul Goetsch, Dr. Caryn Heldt, and Dr. Alexandra Morrison.
The festival is free and open to the public. To learn more about all the films and events throughout the weekend, visit 41northfilmfest.org. Students will need their HuskyCard, others can reserve a ticket.