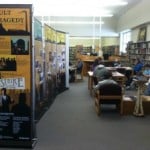 1913 Strike Exhibit in L'Anse
"Tumult and Tragedy: Michigan's 1913-14 Copper Strike," a traveling exhibit created by the Michigan Tech Archives, will be on display from March 4 to March 27 at the L'Anse Area School Public Library, located in L'Anse High School. The library will be open Monday-Friday, 7:30 a.m. to 6:00 p.m.
Read more at the Michigan Tech Archives Blog, by Erik Nordberg.
Library Matters: 1913 Strike Exhibit Visits L'Anse

The exhibit explores a turbulent period in Michigan's historic copper mining district. On July 23, 1913, members of the Western Federation of Miners took to the streets over grievances about pay and working conditions.
Read more at Tech Today.