All comments from our Michigan Tech Alumni Network on Facebook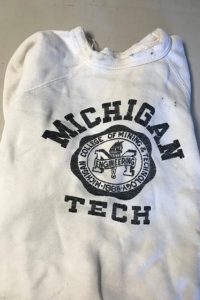 "I almost threw this away recently since it is in such poor condition, but just could not do it. I got it soon after arriving in my first year. I think the shirts were sold at the Union or book store. I was pleased to be enrolled in 'The Michigan College of Mining and Technology.' The name was changed to Michigan Technological University soon after I graduated. It could still be called 'Michigan Tech,' however."  –Brian K.
"I was part of the Dec. 2, 1985 snowbound students trying to make it to MTU through the storm. I had to wait it out in Marquette."  –Don G.
"Being really intimidated going into a really bad job market in 05-09… the job market today gives graduates all the leverage… these companies should be eating out of your little hand! Be confident and make us Huskies that came before you proud! My MTU degree put me ahead of my counterparts and you have a lot to bargain with amongst companies!"  –Matthew D.
"It is fun and interesting to talk with new prospects. Most young people seem so much better prepared than I was at that age. Love the energy and the vibe." –Michael D.
"I was there — section 207. Go, Huskies! Go, Red Wings!!" –Todd H.
"Standing outside the Admin building early in the frigid weather waiting to get in and sign up for interviews in 1981!! Well worth it in the end!!" –Jeff N.
This is Huskies helping Huskies! From Jonathan A., who received 18 replies. "Are there any folks that work in automotive casting processes? Would you know what simulation software is used in that industry and why? I'm writing a report for some grad school work and knew that a number of Tech grads probably work in this area."
---
Cynthia H. posted this question and got 112 comments  …
"On the MTU Parent fb group, parents are concerned because their students are unhappy with the dorm food. What were some of your favorites from your MTU era? Also, what was awful?"
A sampling of responses…
"Fish bites were the epitome of disgusting dorm food. Tomato soup and grilled cheese were the best." –Monica H.
"The 'vat' of peanut butter with the oil congealed on top (1980 Wads hall)." –Tina S.
"BLT day was the absolute BOMB. You can choose as much bacon as you desire." –Brittany H.
"Loved the pasties & liver & onions were a fast gone item on the days they were served." –Ellie C.
"We'd pile cheese sandwiches on top of the ceiling lights (hot, incandescents) in the Wadsworth elevator. What a smell! 😋" –Stan S. '65 '69
"Slimy hot dog day boiled in green water day." –Jeff R.
"Beef tips were so bad (2008-2012) there was a students against beef tips Facebook group." –Emma Z.
"They did not get better in 2013 😄" –Maggie S.
"Maybe not everything was amazing, but there was no lacking for options. I remember making my own paninis and frequenting the salad and pasta stations. Just wait till they graduate and have to cook for themselves." –Amy D. Wads 07-08.
"Students complaining about food is a timeless tradition. When they move out into apartments, they BEG for dorm food. I'd always have an extra swipe or two and would bring a friend once or twice a week." –Ward R.
"I didn't eat the hot food in Wads ever. But the sandwich, salad, and stir fry/omelet area were fine. And the staff did great accommodating my food intolerances." –Rachel S.
"Just had a mini reunion with friends from Tech and we were talking about the food in the dorms. The Egg McTech was the crowd favorite.  Alumni from circa 1990-1994." –Roberta W.
"I appreciated the salad bar, but the free Nutella and pb toast with hot chocolate definitely contributed to my freshman 15." –Taylor F.  
"I remember telling my mom how great the dorm food was (DHH 1980-81). She made it clear that she considered that news insulting which surprised me since I thought she'd be happy for me. I tend to be naturally optimistic and thought it was pretty cool that you could show up, take whatever you wanted, finish every meal with ice cream, eat with friends, and you didn't even have to do any clean up. Honestly, I don't remember thinking there was any problem with dorm food." –Kathy H.
"My son is very happy with the food (guess that tells you how good a cook I am …or as the case might be…am NOT!). I was in Wadsworth 1980 – 1981. They had a suggestion box on the wall. I remember someone stuffed a "tuna surprise" in the suggestion box. Tuna surprise was basically a tuna fish sandwich but on a hot dog bun." –Molly B.
"I don't know, I just graduated last year and to be honest the food in McNair was really really good. High quality food, prepared well, and there were a great variety of options for any diet. I'll admit though that the food is noticeably less quality in the other dining halls, especially Wads." –Hal H.
"Keweenaw Bowl, tacos, homemade pizza all great. Whatever "Greek food" they tried to make (gyros) were completely awful." –Brittany K.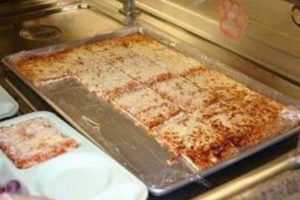 "With proper installation, the Pizza we had in the 70s would double as a 10 year residential roof shingle. But…it was pizza and we always looked forward to it!! 😄😄" –Jim R.
"DHH's greasy rotisserie hotdogs couldn't hold a candle to Wads' boiled doggies. Just like mom used to make…" –Matthew C.
When I was student cook in Co-Ed in early 70's everything was Wonderful, 😄" –Randy S.