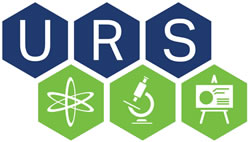 Winners Announced!
Brian Flanagan
Computer Engineering
The Effects of Uncertain Labels on Damage Assessment in Remotely Sensed Images
SECOND PLACE WINNER
Drew Hanover
Mechanical Engineering
Building-to-Grid Predictive Power Flow Control for Demand Response and Demand Flexibility Programs
THIRD PLACE WINNER
Trevyn Payne
Chemical Engineering
Separation of Individual Components from Lithium-Ion Batteries
HONORABLE MENTION
Hannah Marti
Biomedical Engineering
Psychophysiological Effects of Acute Mindfulness Meditation
HONORABLE MENTION
Several undergraduate students in engineering disciplines participated in Michigan Tech's Undergraduate Research Symposium (URS) on March 17, 2017, in the Rozsa Lobby. Hosted by the Pavlis Honors College, the URS highlights the amazing cutting-edge research being conducted on Michigan Tech's campus by some of our best and brightest undergraduate students.
Participating engineering students included:
Dakota Anderson
Biomedical Engineering, Electrical Engineering
Improving Upper-Body Muscle Conditioning While Training at Low Intensities
Alicia Ball
Chemical Engineering
Effect of pH & Mineral Chemistry on Settling of Mineral Particles
Erica Coscarelli
Environmental Engineering
Impact of Dissolved Organic Matter & Its Transformation to Ultraviolet Photolysis Process in Engineered Water & Wastewater Treatment Systems
Aaron Dean
Mechanical Engineering
Effectiveness of Using SHRP2 Naturalistic Driving Study Data to Analyze Driver Behavior at Highway-Rail Grade Crossings
Mary Elizabeth Galbraith
Chemical Engineering
Unconventional Rare Earth Element Resources
Rebekka Guyon
Geological Engineering
Production of Biocementation from the Stimulation of Iron-Oxidizing Bacteria to Mitigate Dust Susceptibility
William Hughes
Mechanical Engineering
Investigation of Fuel Injection Systems- Fundamental Nozzle Cavitation Studies
Emily Hunt
Materials Science and Engineering
3D Printed Super-Bainitic Steel
Michelle Kelly
Environmental Engineering
Within-Reach Variation in Nitrification and Denitrification Rates in Lake Superior Tributaries
Ami Kling
Biomedical Engineering
Determination of the Effects of Hyperthermic Ablation on the Microstructure of Type I Collagen
Allysa Meinburg
Biomedical Engineering
Sensorized Suture Anchor for Real Time Monitoring of Tensile Loads
Alex Miltenberger
Applied Geophysics
Multiple-Point Geostatistical Simulation of Fracture Networks Using Secondary Ground Penetrating Radar Information
Zachary Oldenburg
Chemical Engineering
A Preliminary Economic Feasibility Study for the Recycling of Lithium-Ion Batteries
Emily Petersen
Materials Science and Engineering
Emergence of Home Manufacturing in the Developed World: Return on Investment for Open-Source 3-D Printers
Denada Planaj
Geological Engineering
Modeling Shallow and Deep Seated Landslides in Wayanad District, Kerala, India
Violet Thole
Materials Science and Engineering
Structure Property Relationships in Next Generation Ballistic Fibers
Ben Updike
Chemical Engineering
Preliminary Quantum Chemical Investigations on the Designing of Effective Catalysts for the Haber Process
Travis Wigstrom
Chemical Engineering
A Better Approach to Tritylation of Alcohols
Erica Anderson
Geological Engineering
Modeling the Potential Travel Paths of Post-Wildfire Debris Flows
Yani Beeker
Materials Science and Engineering
Open-Source Parametric 3-D Printed Slot Die System for Thin Film Semiconductor Processing
Katie Bristol
Applied Geophysics
Rock Magnetic Investigation of Carbonaceous Chondrules from the Allende Meteorite
Jeffrey Brookins
Materials Science and Engineering
Prototyping & Characterization of Zinc-Based Bioabsorbable Vascular Ligating Clips
Andrew Bruning
Mechanical Engineering
Generating Monodisperse Oxidized Methacrylated Alginate Microbeads with Specific Encapsulation Factors
Derek Burrell
Electrical Engineering
Performance Analysis of Stationary Hadamard Matrix Diffusers in Free-Space Optical Communication Links
Elisha Earley
Biomedical Engineering
Evaluating Novel Biodegradable Stent Materials
Simon Eddy
Materials Science and Engineering
Tungsten Disulfide as a Counter Electrode in Dye-Sensitized Solar Cells
Meghan Friske
Biomedical and Electrical Engineering
Characterization of Electrospun Nanofiber Scaffold for Wound Healing Applications
Samuel Gaines
Civil Engineering
Structural Health Monitoring Using UAV's & Kinect Sensors
Jackie Harris
Chemical Engineering
Investigation into the Free Radical Scavenging Activity of Novel Nitroxide Derivatives
Carly Joseph
Biomedical Engineering
Development of a Novel Injectable Nitric Oxide Releasing Fibrin Microgel Composite Hydrogel for Tendon Repair
Ryan Kibler
Environmental Engineering
Understanding Lake Superior Warming Through Observational Data & Model Results
Jeremy Luebke
Environmental Engineering
Changes in Tropospheric Ozone Formation With a Reduction in PM Over China
Mary Kate Mitchell
Chemical Engineering
Predicting the Rejection Efficiencies of Toxicologically Relevant Organics in Reverse Osmosis of Wastewater Reclamation Processes
Charles Newlin
Materials Science and Engineering
The Effects of Nano-Sized Particles in Ultrahigh Carbon Steels
Thomas Page
Mechanical Engineering
Linear Traverse Design Project for Research Applications in the Cloud Chamber
Emily Praznik
Environmental Engineering
Macroinvertebrates in Hammel Creek
Hao Qin
Materials Science and Engineering
Synergistic Effect of Graphene-Oxide-Doping and Microwave-Curing on Mechanical Strength of Cement
David Ross
Biomedical Engineering
Covalently Bonded Collagen Coating on PDMS Improved Human Mesenchymal Stem Cell Sheet
Philip Staublin
Materials Science and Engineering
Modeling Biocorrosion of Zinc Alloys in Endovascular Environment
Valeria Suarez
Geological Engineering
Risk Assessment and Slope Stability Modelling of a Transportation Corridor in Hindu Kush Range
Brendan Treanore
Materials Science and Engineering
Substrate Active Cooling for Weld Based 3D Printing