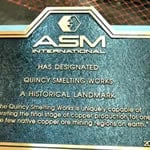 RIPLEY — The former Quincy Smelting Works site has been recognized as historic because of its uniqueness. On Friday, May 19, 2017, the site received a dedication as a historic landmark.
Wayne Pennington, dean of the Tech College of Engineering, said the university had a connection with the site when the university was called the Michigan School of Mines, and Tech is still involved with the site.
"Thank you for including us at this time," he said of the landmark dedication.