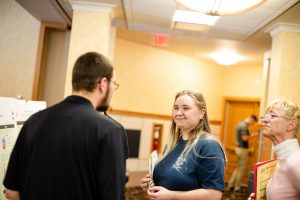 If you want to know if you have a passion for something, you should gain experience in it. Thankfully, Michigan Tech's University Marketing and Communications department, or UMC, was my opportunity. I spent the past two semesters working in the department as a student writer. I had come into it with no idea what I would gain, but left with some important lessons.
First: planning. Being a college student already requires balance, but put a job on top of that and you have someone in need of Google Calendar. After adding in time for interviews, writing, and meetings, my time soon became thin. Meeting deadlines and creating content I was proud of was crucial to me. If I didn't make the time, then the words would be bland and unimaginative.
Then I moved into learning about communication. There are so many people within the UMC, from writers to editors to those that make the content accessible. Making sure people know your intentions and plan of attack clearly is important. While this was great to learn, I also found out that sometimes people just won't answer you and there is nothing that you can do about it.
Lastly, I would say I gained much more respect for people in my field. Of course, not being a part of it before meant I never knew much, but I didn't realize the amount of work put in. It opened my eyes for me to see that writing wasn't something that anyone could do, but something people with passion could do. Those who helped make my writing better knew exactly where I was at and gave wonderful ideas to aid me. If it wasn't for them, I'm not sure I would have continued to love writing. The UMC made me fall in love with being a writer all over again.