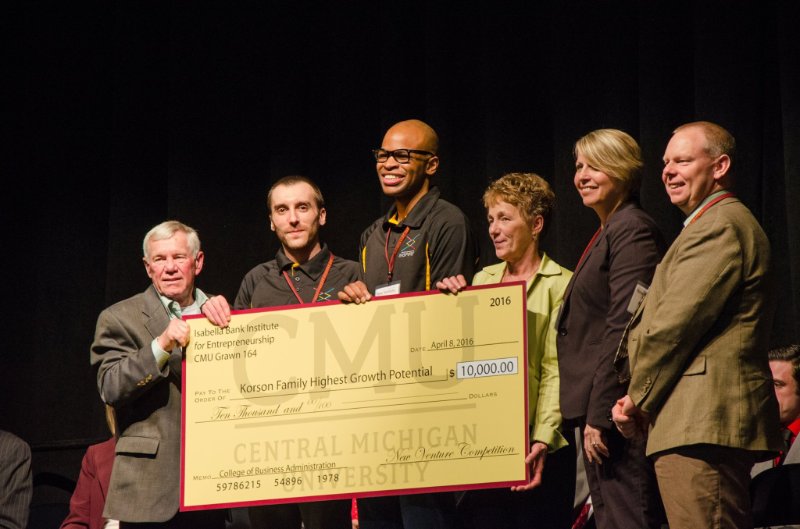 Two student teams from Michigan Tech each brought home $10,000 or more in venture funding from the New Venture Competition at Central Michigan University last weekend.
We Inspire, led by BSEE senior Arick Davis, won the $10,000 Korson Family Highest Growth Potential Award. We Inspire is developing an online system and community to help students make informed career choices by connecting them with profiles and feedback from practicing professionals.
Superior Filament, led by Cedric Kennedy, Aubrey Woern and Jos Krugh, brought home a $10,000 Best Technology Award, as well as another $1,000 for Best Pitch and the $250 Audience Choice Award.
The student-run company is developing filment for 3-D printers from recycled plastics to support growth in the 3-D printing industry while reducing environmental impact.
Two other Michigan Tech teams participated in the annual entrepreneurial competition. TRU is developing a big data solution with proprietary algorithms to help performance athletes optimize performance through informed nutritional and dietary supplement choices.
Huskies 4 Hire is connecting students looking for short-term employment opportunities with community members seeking temporary employees.
The Pavlis Honors College helped sponsor the event financially. The student teams received support from Michigan Tech's Innovation Center for Entrepreneurship, the School of Business and Economics and the MTEC SMartZone.
Original story by Jenn Donovan, Tech Today, 4/12/16
For more information see LinkedIn Pulse.