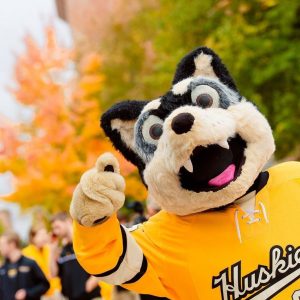 Our ability to make an impact on the lives of young people, and on economic development and workforce training in the state of Michigan and nationwide, depends critically on university efforts to spread the word about the value of a Michigan Tech education and to get students in the front door. Today I would like to acknowledge the outstanding work done by John Lehman, Associate Vice President for Enrollment and University Relations, Allison Carter, Director of Admissions, and their entire team of university recruiters who spend countless hours on the road attending high school college fairs, talking to students and high school counselors, and serving as our front line ambassadors for the university. We could not do our job if they did not do theirs, and they do it very well.
As you might imagine many of the efforts in the Office of Admission have to be coordinated with the academic departments such as ECE, where we hold meetings with prospective students and their families, make our own pitch about undergraduate programs in electrical and computer engineering, and give tours of our department facilities. The point of contact for student recruiting in the ECE Department is Judy Donahue, our EE Undergraduate Academic Advisor. Student recruiting has become a big part of Judy's everyday workload and she does an absolutely fabulous job with it. We are fortunate to have Judy be the face of the ECE Department for so many students who are facing critically important decisions about their future. Judy gets a lot of valuable support from CpE Undergraduate Academic Advisor Trever Hassell, ECE Associate Chair Glen Archer and a cadre of cheerful and enthusiastic ECE students who help out with department tours, demonstrations, and phone campaigns.
The main event in the recruiting season this spring is Preview Day, which is tomorrow (Saturday, March 18). This is the day when we invite prospective students and their families to campus, and put on a big show at both the university and department levels. Part of the day takes place at a central location, the Memorial Union Ballroom, where all the academic departments have tables set up in an exhibit hall format, and folks can wander around to collect information and engage in conversation. Part of the day takes place in the departments themselves, where we stage tours and demonstrations, again with lots of help from our students. As usual Judy Donahue is coordinating all the efforts for the ECE Department. This year has turned out be unusual in the sense that we have a very large number of students signed up to tour the ECE Department, much more than in previous years. Some might call this situation a "success disaster" but it's a good problem to have, and we can handle it. The large response this year might be dumb luck, but I like to think that it is a result of efforts by us and others, calling attention to all the career opportunities in electrical and computer engineering and the uniqueness of our community at Michigan Tech. We will be ready and are delighted to welcome so many future engineers!
One of the activities that supports student recruiting in the ECE Department is a design competition among current students that we call MasterpiECE Mania. I started this a few years ago, when I noticed that several academic departments had all sorts of cool gadgets and gizmos on their tables at recruiting events, and ECE did not have much to show other than paper handouts. I challenged the students to come up with interesting designs and products that don't necessarily have to do anything useful, but are fun to look at or listen to, and show off the ingenuity of students in electrical and computer engineering. (Aside: "ingenuity" and "engineering" come from the same root in Latin "ingenium" so I guess that was redundant.) We use the winning entries in the larger recruiting events like tomorrow's Preview Day. The competition itself is organized and run by our IEEE student branch, and this year our judging was just last night. I want to thank Chrissy Kaub, the IEEE student branch president, and her support team for making it happen this year; also I want to thank the ECE faculty who stepped up to serve as judges – Jeremy Bos, Roger Kieckhafer, and Warren Perger. We had nine entries. The winner came from the team of Nick Dubiel and Darren McCaul who created an electric arc audio speaker, where music is played using an electric arc between two high-voltage electrodes about an inch apart. If you are on the tour, you will see it (and hear it) tomorrow! Since we started this competition, I have been really impressed by the creativity and resourcefulness of our students, or at least a certain segment of them. It pains me to admit this, but I was never much of a tinkerer when I was a kid, so seeing what these students come up with is rather humbling!
Speaking of competitions, there is another big event on campus tomorrow night. The Michigan Tech Huskies men's hockey team will be playing one game against the Bowling Green Falcons for the WCHA championship and an automatic bid to the NCAA Division 1 men's hockey tournament. This is the first time that a WCHA championship game will be hosted at the MacInnes Ice Arena, and everyone around campus is pretty excited. I rented a skybox for the ECE Department so we will all be there having a big party and hopefully bringing home a Michigan Tech victory. Go Huskies!
– Dan
Daniel R. Fuhrmann
Dave House Professor and Chair
Department of Electrical and Computer Engineering
Michigan Technological University