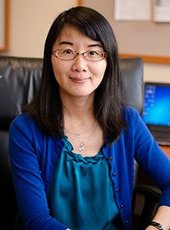 Underwater acoustic communication has been in use for decades, but primarily for military applications. In recent years, private sectors such as environmental monitoring, off-shore oil and gas exploration, and aquaculture have become interested in its possibilities.
But existing research about underwater acoustic communication networks often relies on human-operated surface ships or cost-prohibitive autonomous underwater vehicles (AUVs). And these cost barriers can limit academic research evaluation to computer simulations, constraining research innovation towards practical applications.
Recognizing the above gap, Michigan Tech Institute of Computing and Cybersystems (ICC) researchers Zhaohui Wang, assistant professor, Electrical and Computer Engineering, and Nina Mahmoudian, adjunct professor, Mechanical Engineering-Engineering Mechanics, saw an opportunity to combine their areas of expertise: for Wang, underwater acoustic communications, for Mahmoudian, low-cost marine robotics and AUVs.
Also part of the research team were PhD student Li Wei, Electrical and Computer Engineering, and post-doc research engineer Barzin Moridian, Mechanical Engineering-Engineering Mechanics. The team also collaborated with scientists at Michigan Tech's Great Lakes Research Center.
With a $50K seed grant from Electrical and Computer Engineering alumnus Paul Williams '61, the team took the research beneath the surface to develop a low-cost marine mobile infrastructure and investigate the challenges and possible solutions in engineering a leading-edge AUV communication network.
Download a summary of the research from the ICC website at icc.mtu.edu/downloads.
Read more at ICC News, by Karen Johnson, ICC Communications Director.
Related: