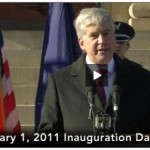 Michigan Governor Rick Snyder in the inaugural address on January 1, 2011, said Michigan Tech's Institute for Leadership and Innovation is one of the great successes in the state.
Near the conclusion of the inaugural address, the governor said: "For the reinvention of Michigan going ahead, at a minimum, we need to commit to the four following objectives:
Number one, we will be a globally competitive leader in innovation.
Number two, we will create more and better jobs.
Number three, we will create a bright future for our young people.
And finally, we will do this together and not leave some behind.
"Part of the process is to celebrate some of the great successes we already have going for us. Over the next year, you'll hear of "Power of Michigan" events to highlight great entrepreneurial and innovation activities in our state. We'll be highlighting things we are already doing. Things such as Art Prize in Grand Rapids, the Accelerate Michigan innovation contest in Southeastern Michigan, Michigan Tech's Institute for Leadership and Innovation up in Houghton. We have great things going and we will celebrate them."
The governor said: "We all want to live in a state of high expectations and, more importantly, high results. We can only achieve extraordinary things if we aspire beyond traditional thinking. The old unbelievable needs to become the new achievable — new expectations for our lives and the lives of our children. Let today be the birth of a new chapter in Michigan's history. Let today be the birth of the era of innovation and the reinvention of Michigan."
The ILI is home to the Enterprise Program, the Pavlis Institute for Global Technological Leadership, and the High School Enterprise Program. Under the direction of Professor Robert Warrington and Professor of Practice Robert Mark (School of Business and Economics), the institute seeks to develop innovation, discovery and leadership skills among students from all academic departments.