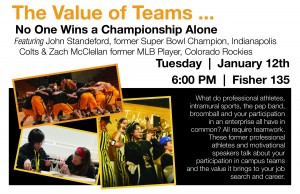 Two former athletes, who now present on college campuses throughout the nation, have added Michigan Tech to their list of places to present.
John Standeford, former Super Bowl Champion – Indianapolis Colts and Zach McClellan – former Colorado Rockies National League champion will be in Houghton to talk about the value of teams and how your participation in extracurricular activities can bring success to your job search.
Don't miss this opportunity to meet two former athletes who might make a difference in your life and career!