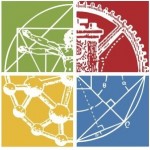 Michigan Tech celebrated National Engineers Week 2012 February 19-25.
National Engineers Week celebrates the positive contributions engineers make to society and is a catalyst for outreach across the country to kids and adults alike. For the past 60 years, National Engineers Week (E-Week) has been celebrated each February around the time of George Washington's birthday, February 22, because Washington is considered by many to be the first US engineer. Each year the national celebration grows, and this year Michigan Tech will jump head first into E-Week with 30 different engineering events on campus for all to enjoy.
The E-Week Kick-off event was the Winter Baja Competition with Two 90-minute endurance races, as well as a dynamic event. Fifteen universities competing, many with multiple vehicles. See the results, photos and video at 2012 Winter Baja
Among the many events, Engineering Fundamentals served a celebration cake and sold E-Week T-shirts at cost all week long.
Other events included the hydro-cyclone—"a must see" in the Department of Chemical Engineering. Many local high school students enjoyed a nano-materials talk and a foundry metal casting demo in the Department of Materials Science & Engineering. Students made holograms in the Department of Electrical & Computer Engineering. Railroad Night, hosted by the Rail Transportation Program was at the Magnuson Hotel in downtown Houghton where students, faculty and rail industry officials met.
As a part of Engineering Week, American Society of Mechanical Engineers hosted a Cardboard Sled Race on Mont Ripley. The event included a cash prize to the top 3 finishers and is open to any student on campus. Teams can range from 2 to 5 people. The event was held on February 24. Video is at Cardboard Sled Race
These events and many others took place across campus for all to enjoy: students (all majors); faculty (all departments); staff, alumni, friends and community are all invited.
•Pictures of many of the E=Week events are on the College of Engineering Flickr site
• Here's a list of all the E-Week engineering events for the record that were held on campus, listed below or in a printable PDF File Link:
See Eweek Schedule of Events
More info on National Engineers Week nationwide:
http://www.eweek.org/EngineersWeek/EngineersWeek.aspx