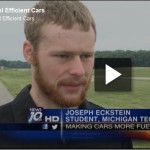 At the recent SAE Supermileage event in Marshall, Mich., Michigan Tech's team placed sixth overall. Twenty-eight teams registered this year, of which 19 successfully passed technical inspection and 15 made successful fuel runs, including Michig
an Tech, who ended up with 758 mpg. Their design report score of 350 was among the highest.
"We made the cut for prize money–$400–ironically just enough to pay for diesel fuel to travel to competition and back," said advisor Rick Berkey (ILI). Penn State and BYU placed first and second with 1,300 mpg.
"While the competition only considers the single best run, consistency is important in the real world and we demonstrated a reliable vehicle with three runs of 723, 758, and 727 mpg," Berkey added. "Our team was well prepared and represented themselves, the Enterprise Program and Michigan Tech very well. They showed great sportsmanship, assisting several other teams in the pits by sharing tools, spare parts, and knowledge. We had a few minor issues which is typical, but nothing we didn't overcome or that had any material effect on our performance."
Below are some highlights and related links, including video footage featuring Joe Eckstein (MSE/MEEM dual major).
WILX | CBS Detroit | Facebook
With gas prices in Michigan hovering around $4.29 per gallon, how does a car that can get up to 1,000 miles per gallon sound?
It's that lofty goal that has Joseph Eckstein and his team from Michigan Tech going the extra mile to build the most fuel efficient vehicle possible.