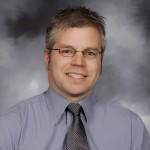 The Society of Automotive Engineers International has honored Rick Berkey, industry projects manager for the Institute for Leadership and Innovation, with the 2014 Faculty Advisor Award. Berkey is the faculty advisor for the Supermileage Systems Enterprise.
"This is a significant honor for Rick, which recognizes his success as an advisor for the SAE Supermileage team and as a mentor for our students," said ME-EM Department Chair Bill Predebon. "Rick utilizes his strong industry experience in teaching and mentoring his students."  
According to the SAE International website, "Dedicated faculty advisors encourage students to join SAE International and participate in Collegiate Chapters and the Collegiate Design Series, which helps them develop key skills that are transferrable to their careers."
The SAE Faculty Advisor Award was established in 1990 and funded by the Ralph R. Teetor Educational Award Fund to recognize faculty advisors who "embody this professionalism and dedication to SAE."
Previous winners from Michigan Tech were Jason Blough (ME-EM) and Carl Anderson (ME-EM), who were both honored twice.