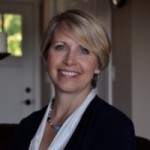 Lorelle Meadows has been appointed dean of the newly established Pavlis Honors College. She will start on August 1.
Meadows comes to Michigan Tech from the University of Michigan—Ann Arbor, where she served as assistant dean of academic programs in the College of Engineering. "She brings a wealth of experience in leadership and administrative roles, from first-year programs to broadly overarching programs that transcend departmental boundaries," said Provost Max Seel. "She has an excellent vision how to bring together the various parts of this new entity."  
The Pavlis Honors College will support highly motivated Michigan Tech students as they achieve the highest standards of academic excellence. In addition to the core Honors Institute for high-achieving undergraduates, the Pavlis Honors College at Michigan Tech will also serve undergraduate students university wide by providing an academic home for the systematic utilization of "plus factor" programs in leadership, research and service. These active learning practices include the Enterprise Program, the Pavlis Leadership Institute, the Research Scholars Program, the Summer Undergraduate Research Fellowship Program and the National and International Scholarships and Fellowships office.
"The creation of the Pavlis Honors College at Michigan Tech provides a unique opportunity to bring together truly world-class components under an umbrella that serves all students in delivering a richer and more fulfilling educational experience—preparing them to "create the future," Meadows said. " I am deeply honored to be a part of this unique effort to realize the creative vision of Mr. Pavlis and the University."
Meadows received her PhD in Oceanic Science from the University of Michigan. From her highly successful and externally funded research in coastal hydrodynamics, she transitioned her work to engineering education, taking on various appointments in the Dean's Office of the College of Engineering at the University of Michigan as managing director of academic affairs, director of academic programs and assistant dean of academic programs. Her work focuses on the area of student teamwork as well as general student motivation and success.