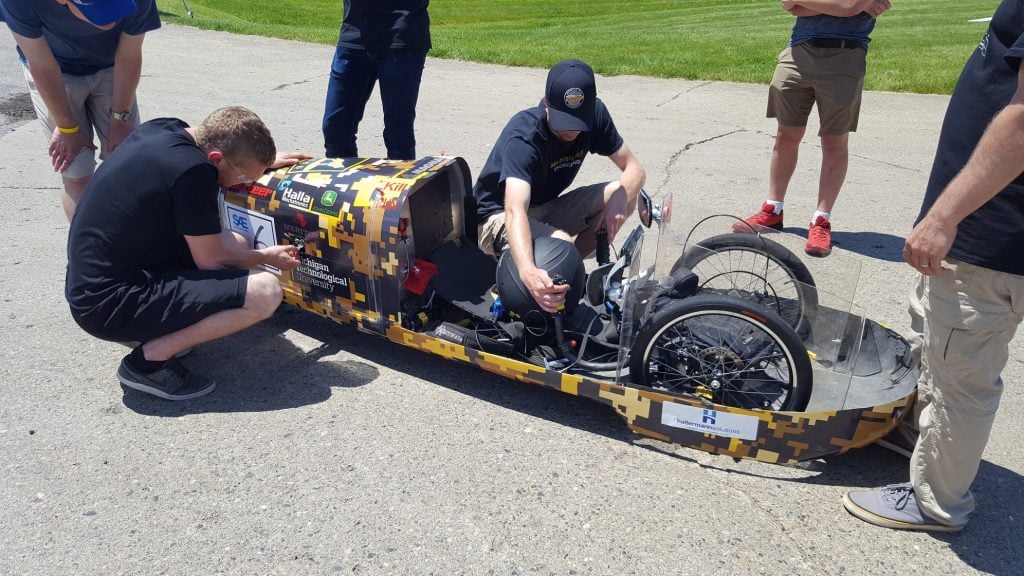 Michigan Technological University's Supermileage Systems Enterprise Team had a successful showing in the recent SAE Supermileage Competition held June 6-8 in Marshall, Michigan. The Michigan Tech team was one of 30 from the U.S., Canada, Lebanon, Mexico, Qatar and United Arab Emirates. Lawrence Tech was the only other Michigan team in the competition. 
SAE Supermileage is an engineering design competition for undergraduate and graduate students. It provides participants with the opportunity to enhance their engineering design and project management skills by applying classroom theories in a challenging competition. 
The engineering design goal is to develop and construct a single-person, fuel-efficient vehicle that complies with the competition rules. The vehicles complete a specified course to obtain the highest combined miles per gallon rating. Students were also required to submit a design segment consisting of a written report and verbal presentation. For the second straight year Michigan Tech earned first place in design, scoring 410 out a possible 500 points based on written and oral presentations. 
Of the 30 teams registered, Tech was one of only 14 to make it successfully through the inspection process, finishing 10th overall. 
Rick Berkey, professor of practice in Tech's Pavlis Honors College and Supermileage Systems Enterprise advisor, said this year's vehicle was completely new and the result of a two-year design and build schedule. He said in the past year alone, the 26-student team logged more than 5,000 hours on the project. 
Berkey said the design prize came with a trophy and $500 but no new world record. "Despite several attempts on the track we were unable to complete a full mileage run," Berkey said. "We narrowed our issues to engine tuning due to inconsistency in the signal from our crank position sensor. We also struggled to maintain chain tension. Both of these issues are priorities for design improvements and testing in 2020."
Berkey said manufacturing the new composite body and chassis required the team to make custom molds, which alone took hundreds of hours. "Our team showed great dedication and perseverance to stay positive and work together. Despite our struggles on the track, every student member of Supermileage Systems Enterprise has furthered their learning and personal/professional development through an experience that simply cannot be duplicated in the classroom. By this measure we had a very successful year and can look back with pride on our accomplishments. Needless to say we are hungrier than ever to get back to competition in 2020!"