By Amy Karagiannakis
The 33rd annual Shell Eco-marathon Americas competition took place over the weekend, April 27-30 in Detroit, MI. This year's event was the second season that Michigan Tech's Supermileage Systems Enterprise team competed.  Shell Eco-marathon challenges student teams from around the world to design, build, test and drive ultra-energy-efficient vehicles. More than 100 teams from universities and high schools across the country and abroad came to the heart of the Motor City to compete on the track located on the city streets surrounding the Cobo Convention Center.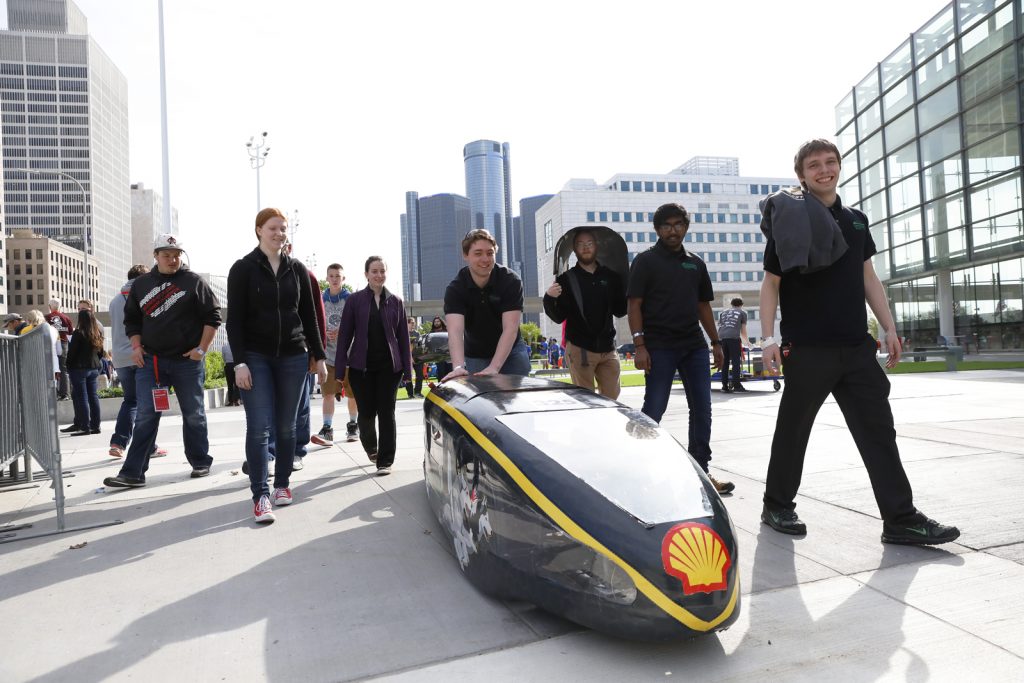 In order to participate, teams must successfully complete a 4-phase registration process, including submission of technical information about their vehicle and design. There are two vehicle categories: urban concept and prototype. Within these categories there are three energy types: internal combustion (multiple fuel types), battery, and hydrogen. In order to compete, teams must pass a rigorous technical inspection and complete 10 consecutive laps around a 0.6 mile closed course in downtown Detroit, maintaining a minimum average speed of 15 mph. Awards are given for teams achieving the highest efficiency (either mpg or m/kWh). Off-track awards are also given for Innovation, Communication, Safety, Design, and Perseverance & Team Spirit. This year, 119 teams from 8 different countries were approved to compete.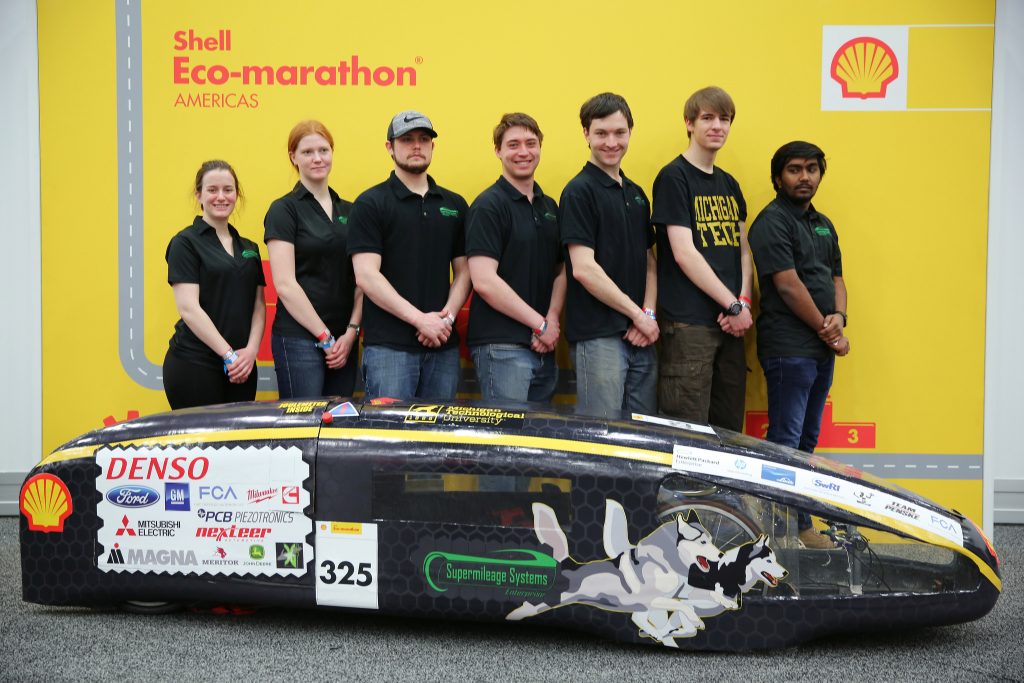 The Supermileage Enterprise competed in the Prototype/Battery Electric class. Of the 27 teams that participated, 22 made it through technical inspection and 17 completed at least one performance run. Tech's Supermileage Systems Enterprise was one of those 17 teams. The team's design included a 500W brushed DC motor and controller using a 48V/20Ah lithium ion battery back and battery management system. The motor controller must be purpose-built and designed by the team (i.e. no off the shelf controllers allowed). The Supermileage Enterprise improved their controller design from last year and upgraded the battery for improved vehicle acceleration. They completed one run with 104 m/kWh…about 3,500 MPGe. The team took 10th place in the BEV prototype category.
Michigan Tech's Supermileage Systems Enterprise team also competed for the Communications, Safety, and Technical Innovation Awards at the Shell Eco-marathon.  They won the Technical Innovation Award for their flexible motor controller design. The judges reviewed the application and interviewed the team. They noted the team's well-defined engineering requirements as one of the key strengths over other applications.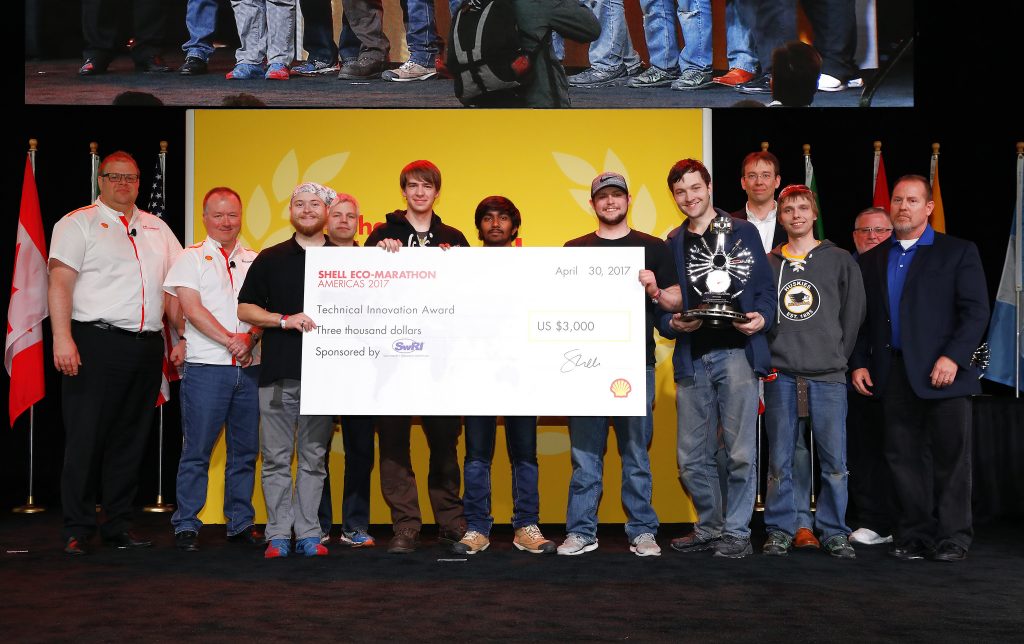 Rick Berkey, Supermileage Systems Enteprise advisor and Director of Michigan Tech's Enterprise Program, commented, "It goes without saying that I am so proud of our team's accomplishments, throughout the year and especially at the event. Competing in the electric vehicle category is particularly challenging given that teams must build their own motor controller. This is not a trivial task! Receiving the Technical Innovation Award was a real testament to the team's motor controller design AND their ability to articulate what makes it innovative and unique. To see us place 10th in only our second year of SEM competition shows the talent and drive of the Supermileage Systems Enterprise. It's rewarding and humbling to work with such a great group of students and to see them get recognition on a national stage among peers from schools around the globe – that was the highlight for me."
The $3,000 monetary award will be put to good use, and the Supermileage Systems Enterprise now has an impressive trophy to display on campus.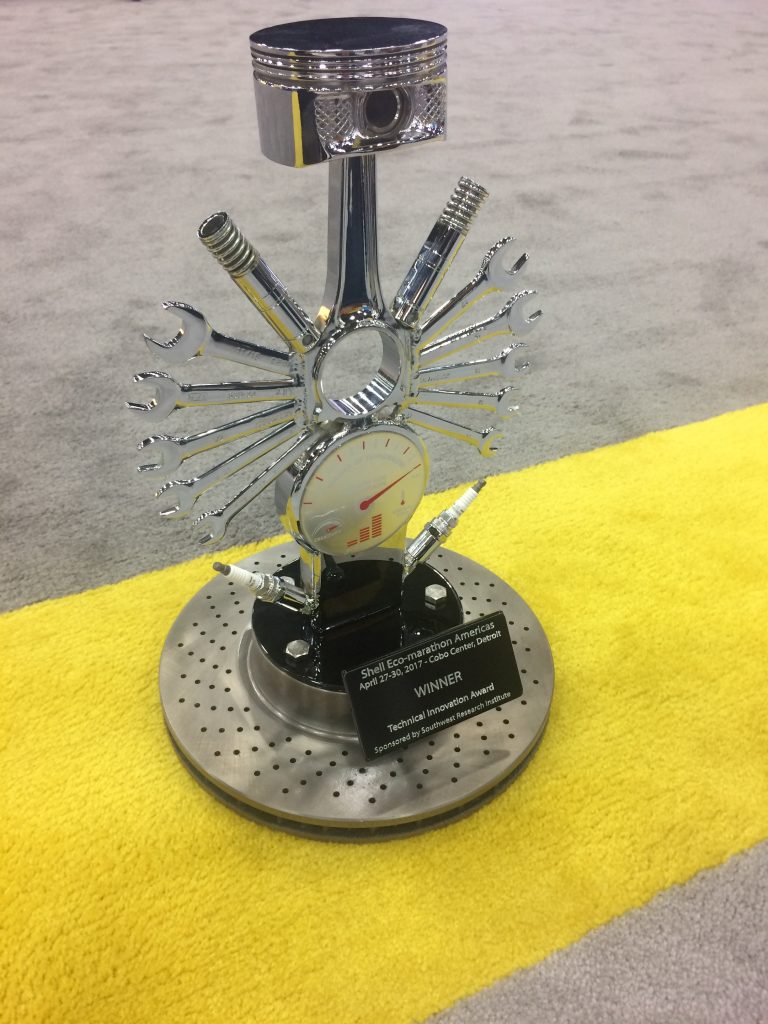 The Supermileage Systems Enterprise team will now begin converting their vehicle over to the internal combustion engine for the upcoming SAE Supermileage competition on June 8-9 at the Eaton Proving Grounds in Marshall, MI. Good luck and congratulations!