Career Fair is almost here! Time to update those resumes and practice your introductions. Have you set up your Handshake profile yet? Handshake is a university platform designed to make it easy for students to find and apply for internships and jobs. Handshake also enables employers and recruiters to find the best talent their companies are looking for. The Pavlis Honors College and The Enterprise Program are listed as Organizations/Extracurriculars. If you'd like to learn how to add these to your profile so that employers and recruiters can easily search for you, please read on.
While on your home profile page, click on 'Add Work Experience' in the top left of your screen. Scroll down and click on 'Add An Organization'.
If you are involved in Enterprise, you may add 'The Enterprise Program at Michigan Tech' as one of your organizations. Use the 'Position' box to state your role or job title, as well as the name of the Enterprise team you are involved in. You may also include a 'Description' to explain your role and responsibilities within the team.  Please see the image below.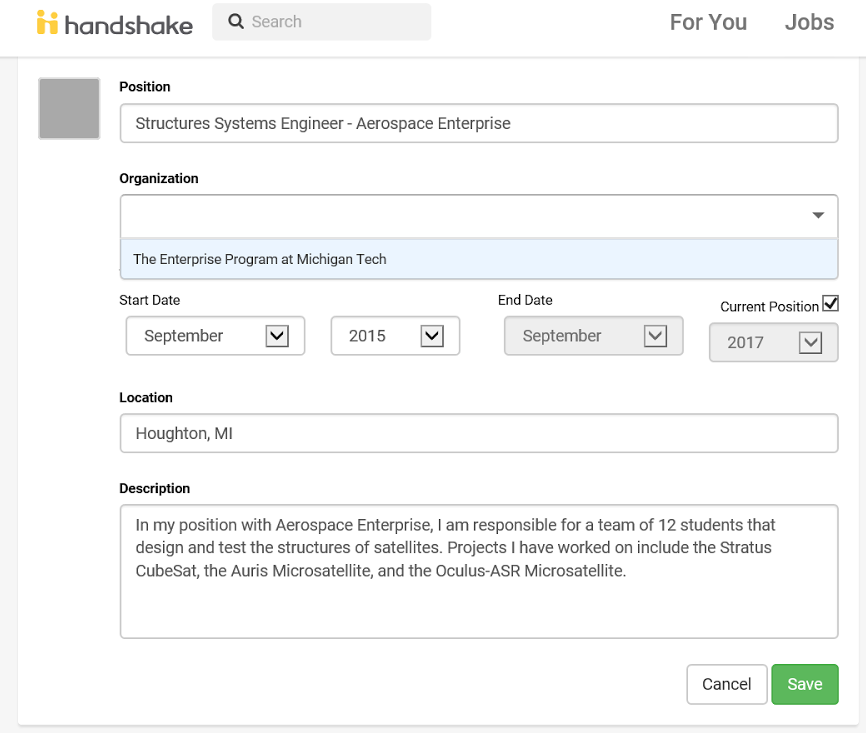 Members of the Honors College can also add the Pavlis Honors College as one of their organizations on Handshake. Use the 'Position' box to state your pathway. You may use the 'Description' box to detail your experiences or accomplishments while in the Honors College. Please see the image below.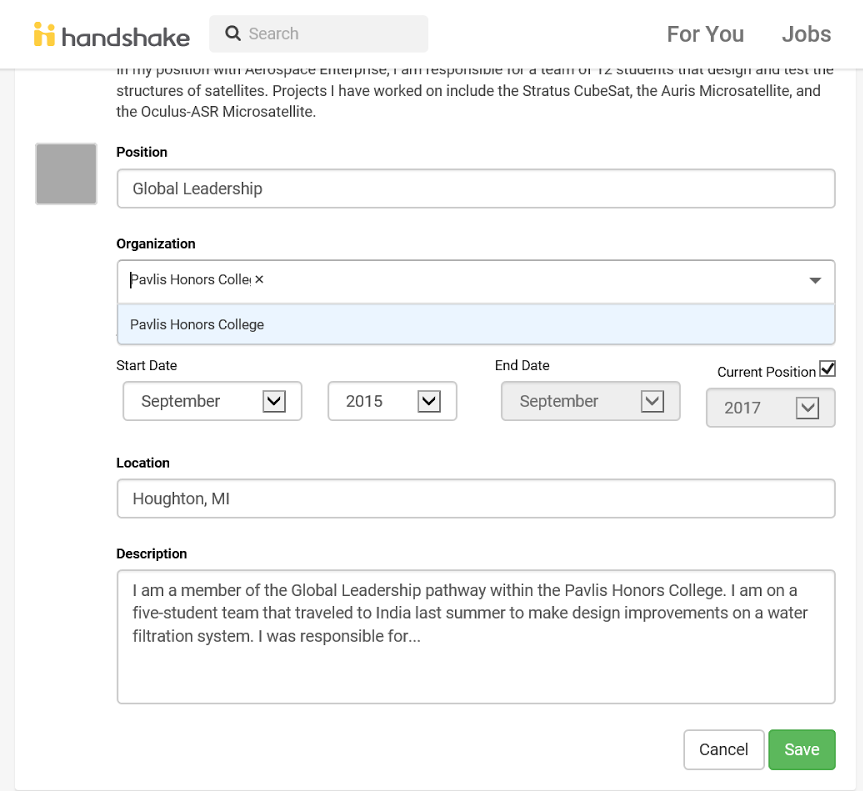 After saving your Organizations/Extracurriculars, your page will look like the screenshot below.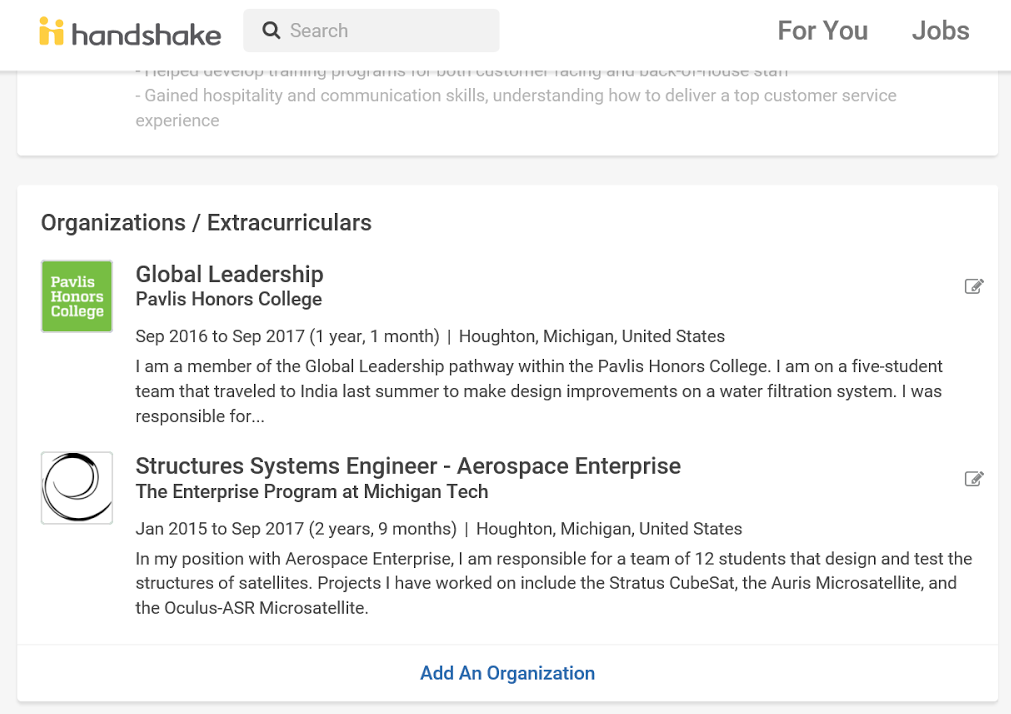 Handshake also allows you to add social links to your profile. If you are a member of the Pavlis Honors College and would like for recruiters and employers to be able to view your Seelio profile you can link to it from the 'Social Links' section in the bottom right corner. Click on 'Add Your Own' and enter your Seelio profile URL here. Make sure that your profile is public. Enterprise students may wish to add their Enterprise team website here as well.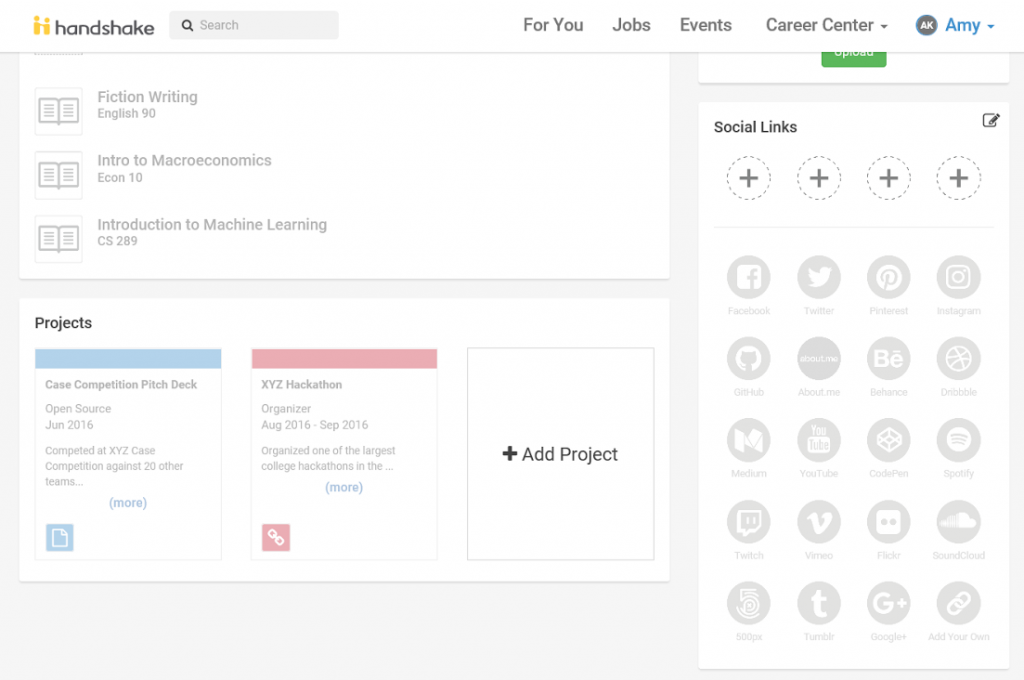 The Handshake Genius Bar will be on campus all this week in room 220E of the Administration and Student Services Building. Stop by to find job postings, learn about events, post your resume, and sign up for one-on-one career advising. Need help setting up your Handshake profile? Stop by Career Services for help.