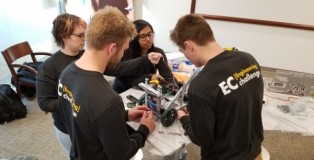 A team of biomedical engineering students from Michigan Tech took first place in the Eighth Annual Stryker Engineering Challenge competition in Kalamazoo, March 22/23, 2018.
Each team member will receive a $1,000 scholarship and an interview for a Summer 2019 Internship with Stryker Corporation, a medical technology company. Each year Stryker invites engineering student teams to its global headquarters to show off their engineering prowess while competing against rival schools.
During overnight competition, teams spent 12 hours planning, designing, prototyping and testing to prepare for a robotics challenge created by Stryker engineers.
This year, six universities competed. In addition to Tech, teams came from Notre Dame, Western Michigan University, Michigan College Alliance, Purdue and Miami of Ohio.
Michigan Tech was the only biomedical engineering team in the competition. All other teams were comprised of mechanical and electrical engineering students. Undergraduates Becky Daniels, Melanie Thomas, Emil Johnson and Nicholas Turowski made up the Michigan Tech team.
 Joe Thompson, associate director, industry engagement in Michigan Tech's Pavlis Honors College traveled with the students and served as mentor. Biomedical Engineering Associate Department Chair and Professor Keat Ghee Ong is the team's advisor.
Biomedical Engineering Department Chair Sean Kirkpatrick said "Last year was BME's first year in the Stryker competition and we took second place. This year's first-place finish shows last year wasn't a fluke—Michigan Tech BME students are very capable engineering students who can handily solve classical engineering problems."
Thompson adds, "The event organizers at Stryker made a point of highlighting the professionalism displayed by Michigan Tech team. The ability to adapt to changing circumstances and collectively persevere contributed to the team's success this year."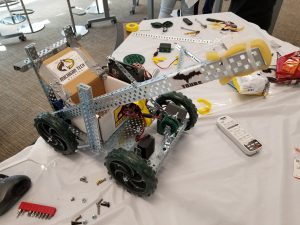 The first half of the competition involved picking up small Lego people with the robot and transporting them to the team's 'pit stop'. The team was able to deliver a 'VIP passenger' to gain extra points, but then their robot arm malfunctioned, sinking them from 1st place to 4th place as a result. The second half of the competition involved an actual race throughout the course. Michigan Tech's robot had the fastest time.
"It was exciting to see how our ideas came to life, and how prototypes became the actual parts that contributed to our victory," says Thomas. "It was a constant reminder of why we chose to pursue engineering."
"The best feelings came whenever a team member was stuck with a particular problem and another team member's suggestion turned out to be the working solution. During the competition we learned how to work with nearly complete strangers. We adapted once we figured out each other's strengths," says Johnson.
"Throughout the challenge we all provided whatever insight we could if we noticed someone struggling with a task, and it was always without judgement," adds Daniels.
"Every employee at Stryker seemed to love their job," notes Turowski. "One told about how during his first year at Stryker he was put on a team of 'vets' and asked to complete a task that had never before been done. I think that shows how much confidence Stryker has in its employees."
"You don't have to know the people you're working with for a very long time in order to be an effective team. You just need to set your eyes on a collective goal and work to successfully complete it.

– Melanie Thomas
Stryker Corporation, active in more than 100 countries, is one of the world's leading medical technology companies, offering products and services to help improve patient and hospital outcomes.