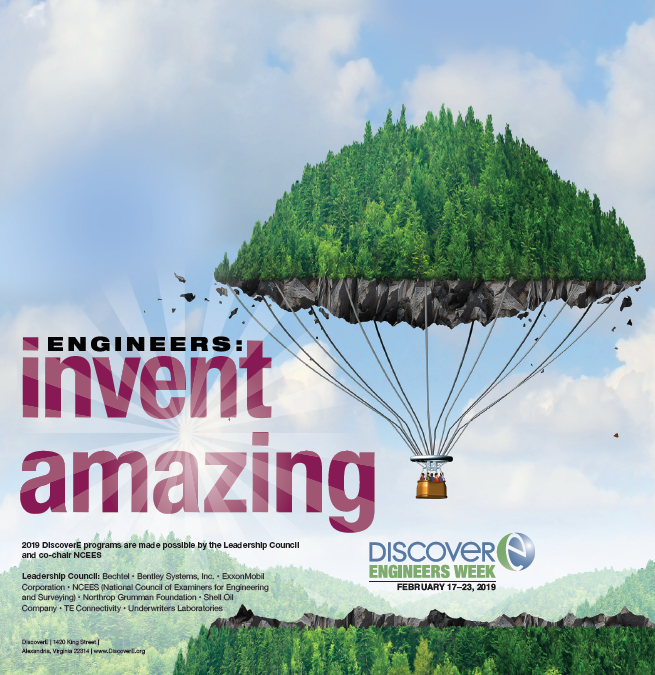 Please join us in celebrating National Engineers Week (Eweek). All are welcome!
We're celebrating Eweek this week with some special events on campus at Michigan Tech. Events are sponsored by the local Michigan Tech chapter of Tau Beta Pi, the Engineering Honor Society, and the College of Engineering.
Founded by the National Society of Professional Engineers in 1951, Eweek is celebrated each February around the time of George Washington's birthday, February 22, because Washington is considered by many to be the first US engineer. Eweek is dedicated to ensuring a diverse and well-educated future engineering workforce by increasing understanding of and interest in engineering and technology careers.
This evening (Monday, Feb. 18) the CPM Enterprise team will host an event featuring Mock Interviews and Career Fair Prep, from 6 to 8 p.m. in ChemSci 101. And there's more. Feel free to stop by and check out Eweek events as your schedule allows:
Insulate an Ice Cube Race: Anyone can take part in this fun and challenging contest, hosted by the Innovative Global Solutions Enterprise, 5:30 – 6:30 p.m. in MEEM 404 on Tuesday, Feb. 19.
Engineers Week Cake: Enjoy a free and delicious piece of cake, courtesy of the Department of Engineering Fundamentals. Cake will be served from 11 a.m. – 2 p.m. Wednesday, (Feb. 20), in Dillman 112B.
Paper Airplane Competition (plus ice cream): Test your creativity and imagination alongside members of the newly-formed Built World Enterprise, 4-5 p.m. Thursday, in Fisher 131.
Build a Heart Rate Circuit Board. Come build your own heart-shaped, heart-rate monitoring circuit board with Blue Marble Security Enterprise, 4 – 6 p.m. Friday (Feb. 22) in EERC 622.
Over the weekend, Tau Beta Pi and the College of Engineering sponsored free Michigan Tech Film Board showings of the movie Interstellar, starring Matthew McConaughey and Anne Hathaway, a science fiction film set in a dystopian future where humanity is struggling to survive. The film follows a group of astronauts who travel through a wormhole near Saturn in search of a new home for humanity.
Eweek is a formal coalition of more than 70 engineering, education, and cultural societies, and more than 50 corporations and government agencies. Dedicated to raising public awareness of engineers' positive contributions to quality of life, Eweek promotes recognition among parents, teachers, and students of the importance of a technical education and a high level of math, science, and technology literacy, and motivates youth, to pursue engineering careers in order to provide a diverse and vigorous engineering workforce. Each year, Eweek reaches thousands of schools, businesses, and community groups across the US.