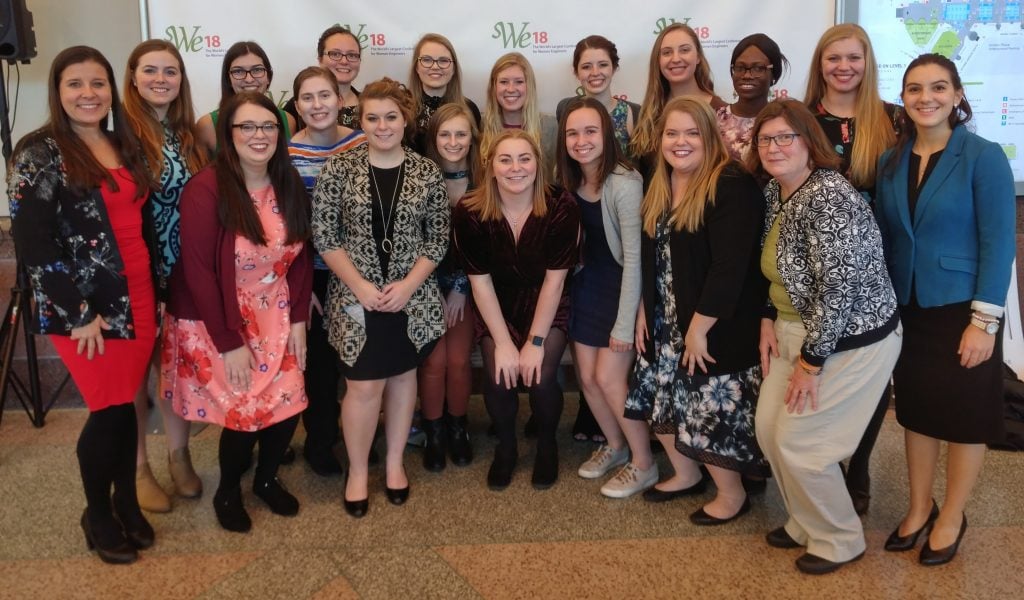 Seventeen members of the Michigan Tech chapter of the Society of Women Engineers (SWE) went to the national conference, WE18, October 18-20 in Minneapolis, Minnesota.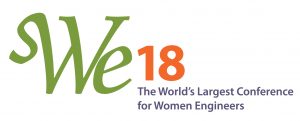 Advisor Gretchen Hein (EF) accompanied the delegation of 13 undergraduates and four graduate students. Three students received travel scholarships: first-year chemical engineering student Josie Edick, second-year civil engineering student Amber Ronsman and Adedoyin Adedokun, a graduate student in electrical engineering. "Gaining close friendships with the other women in the Michigan Tech section was the best part about the conference for me," Edick says. "I gained a ton of advice and insight, which made me very excited to get more involved in SWE back on campus."
The WE18 conference was attended by more than 14,000 SWE members, both collegiate and professional, from across the nation, who enjoyed professional development breakout sessions, inspirational keynotes, a career fair and multiple opportunities for networking.
On the evening prior to the conference, the group attended a Michigan Tech alumni gathering in Minneapolis along with Dean Janet Callahan of the College of Engineering. Katie Buchalski, section president and fourth-year student majoring in environmental engineering, enjoyed the abundance of networking at the alumni gathering. "We all had something in common to talk about … Tech," said Buchalski. "It was nice to learn what people do after college, and see how Tech forms a special bond between people and between generations."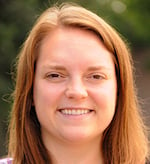 The next day, at WE18, the students participated in professional development activities and presentations. Some volunteered at different events and participated in SWE-sponsored institutes. At the Celebrate SWE! Awards Banquet, Kaitlyn Bunker '17 who earned a PhD in electrical engineering at Michigan Tech, received the SWE Distinguished New Engineer Award for "contributing valuable research and renewable energy solutions in the Caribbean, and to underserved communities; and for steadfast leadership at all levels of SWE." Bunker is currently working at the Rocky Mountain Institute in Boulder, Colorado.
The Michigan Tech section received a Silver Collegiate SWE Mission Award, which recognizes a group that embody SWE core values.
Laura Schimmel volunteered at SWE's outreach event for middle and high school girls, "Invent It. Build It." Schimmel led a STEM activity for middle school girls–building "wind power plants" to lift a payload using cardboard, plastic bottles, straws, and tape. "I am taking a wind energy class at Tech right now," says Schimmel, a fifth year double major in materials science and engineering and mechanical engineering. "I was thrilled to be able to share what I've learned and encourage the girls to pursue STEM in the future. There were hundreds of girls and countless creative solutions."
Erica Coscarelli, a master's student in environmental engineering, participated in the SWE Future Leaders (SWEFL) program. And along with Karina Eyre, Coscarelli went to the SWE Collegiate Leadership Institute (CLI), a day-long leadership development event. Both programs, led by engineers working in industry and academia, help college students gain leadership skills. "Participating in the SWE Future Leaders (SWEFL) program has been extremely beneficial for me," Coscarelli says. "As part of the program we have monthly conference calls and complete our tasks with a buddy. At WE18 we were able to meet in person. It was great putting faces to names."
Hein moderated a panel discussion, "Obtaining your First Academic Job/Academic Job Search". Panelists were from a range of different types of universities and community colleges.
Michigan Tech SWE section counselor, Alumna Britta Jost joined the Michigan Tech attendees at the Celebrate SWE! Awards Banquet. Jost earned a Master's in Mechanical Engineering 2004 and a BS in Mathematical Sciences in 2002, both at Michigan Tech, and works now as engineering project team leader at Caterpillar, Inc. 
The SWE students raised travel funds through their annual SWE "Evening with Industry" event, held each fall just before the Michigan Tech Career Fair. ArcelorMittal, Black & Veatch, and John Deere all provided support for section travel to WE 18, as well.
The best part about WE18?
"Through the SWE18 Conference I was able to secure an interview, and received an internship offer with Boeing in Washington State. If you would have told me as a freshman that I would have an offer with Boeing, I would have thought you were crazy. But being in SWE has given me the courage and experience to pursue opportunities I would have never thought possible."
-Allison Dorn, third year student, mechanical engineering
"SWE18 exposed me greatly to American culture. I am ecstatic that I got to meet awesome women in academia and was able to interact with them both intellectually and professionally. Overall, the conference was a rewarding experience!"
-Adedsyin Adedokun, master's student, electrical engineering
"I loved getting to know my SWE chapter, SWE alums, and other chapters. I made a lot of new friends and we bonded as a group."
-Noelle Eveland, fourth year student, chemical engineering
"I met so many people who were excited to see our chapter at the conference because they, or someone they were friends with, went to Tech. It made me feel proud of our school."
-Emily Cromber, master's student, computer engineering
"Being able to listen to and be inspired by amazing women who have been in our shoes, and who have gone on to have great careers and lives."
-Lauren Sand, fourth year student, biomedical engineering
"Being surrounded by women who support each other as we break boundaries. My passion for engineering was mirrored in every woman I met."
-Claire Langfoss, fourth year student, biomedical engineering
"Attending the amazing career fair with over 330 companies, and the Michigan Tech Alumni event in Minneapolis, where I met and networked with tons of Huskies."
-Romana Carden, fourth year student, engineering management
"Attending a wide variety of sessions pertaining to professional development, leadership, and career management."
-Melanie Zondag, fourth year student, geological engineering
"Engaging with a variety of inspirational women who have broken and continue to break boundaries."
-Jessica Geroux, fifth year student, mechanical engineering
"It was an incredible experience to be surrounded by so many powerful and knowledgeable women. From the keynote to sessions, to the career fair; the ability to grow and prepare for the professional world was extremely rewarding."
-Amber Ronsman, second year student, civil engineering
"My favorite part was the networking. I met some awesome 'SWEsters' from Wyoming as well as many company recruiters and professionals in systems engineering. I know these connections will assist me in the future, and the value is priceless."
-Natalie Green, third year student, systems engineering
"Throughout the weekend I got to meet many other women in the field, both professionals and colleagues. It expanded my horizon and helped me to make valuable connections that will last a lifetime."
-Mackenzie Brunet, third year student, engineering management