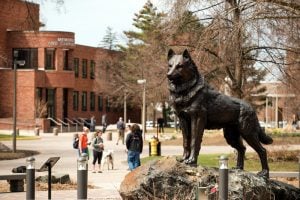 Alumni Engagement extends a warm welcome to the new members of the Alumni Board of Directors who begin their six-year terms July 1, 2018. This group of volunteers was elected from around the country to support the mission of "Celebrating Traditions. Creating Connections."
The Board works with the Alumni Engagement team to develop and support programs for students and alumni.
There are eight new members, five of whom are engineers.
Britta Anderson '15 Electrical Engineering, Kalamazoo, Michigan
Timothy Hartwig '97 Environmental Engineering, Centennial, Colorado
Jackie Jiran '96 Civil Engineering, Carver, Minnesota
Scott McBain '86 Civil Engineering, Rochester Hills, Michigan
Elizabeth Merz '17 Chemical Engineering, Hudsonville, Michigan
Adam Mitteer '03 '17 Data Science Business Administration, Tampa, Florida
Hannah (Bosseler) North '16 App. Cognitive Sciences & Human Factors, Two Rivers, Wisconsin
Andrew VanDyke '11 Forestry, Marquette
The Board will meet on campus August 2-3 during Alumni Reunion.