An Enterprise team from Michigan Tech is one of just ten teams nationwide named as winners of the Ford College Community Challenge, sponsored by the Ford Motor Company Fund. Tech's ITOxygen Enterprise was chosen to receive $25,000 in grant money to implement a project working with a local non-profit organization.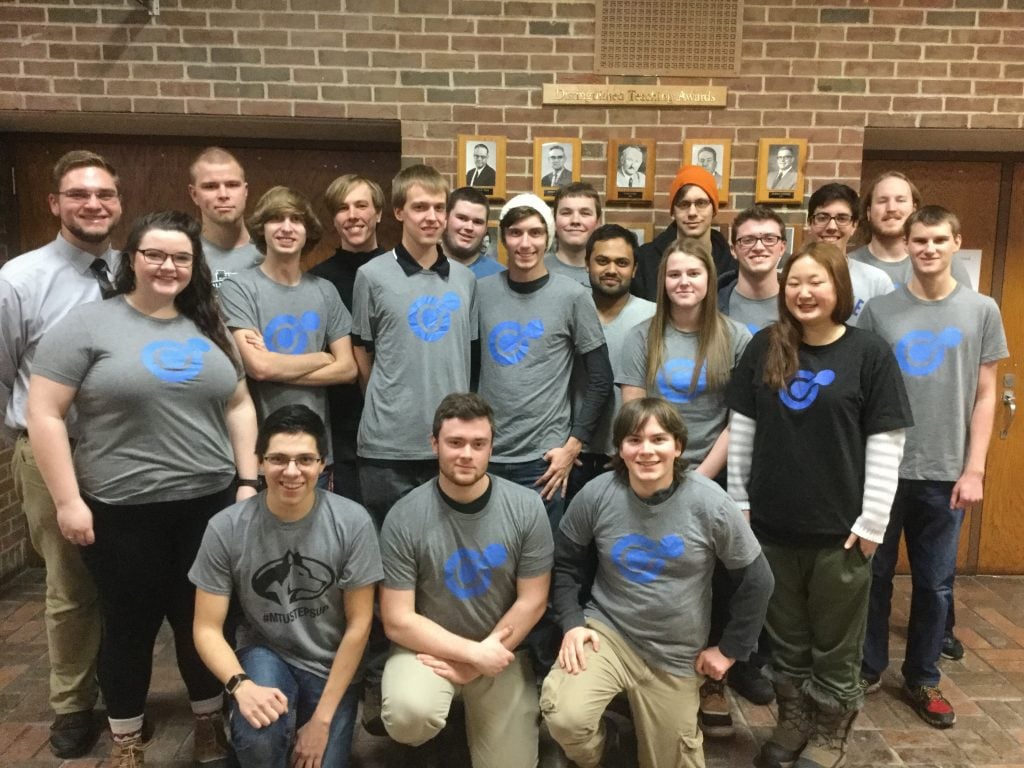 This is the tenth year of the Ford College Community Challenge (Ford C3). This year's theme is "Making Lives Better." Ford C3 is designed to empower college students to develop community-building projects that address local need. Ford C3 works with partners in higher education that are focused on the critical areas of science, technology, engineering, art and math (STEAM). Each year up to ten grants are awarded to proposals that identify an unmet community need tied to one of three areas: Driving Social Mobility, Changing the Way People Move through Smart Mobility and Building Sustainable Communities.
Building upon a Michigan Tech Alumnus' support for Enterprise teams to engage with local community non-profits that benefit the elderly, ITOxygen's project is focused on increasing the mobility of the elderly community in the Upper Peninsula. Specifically, the project intends to address issues related to inefficiencies in the medical transport services provided by Little Brothers Friends of the Elderly, in Hancock.
Aiming at achieving the goal of Little Brothers of relieving isolation and loneliness among the elderly, along with the goals of the Ford C3, the team is seeking to develop a medical transportation management system. Currently, Little Brothers has limited flexibility to adapt to frequently changing schedules. This ITOxygen-developed system would allow for efficient utilization of Little Brothers' volunteer network and resource pool. The management system will create a more flexible and adaptable service, ultimately allowing for the local elderly community to retain their independence and remain in their own homes and still have access to reliable transportation for medical care.
Russ Louks, a professor of practice in Tech's School of Business and Economics is the advisor for Tech's team. He explained how the project came about, "Being the advisor for the ITOxygen Enterprise has been an incredible opportunity for me to watch the students grow and mature into IT professionals that can deliver projects that add value to an organization. The Little Brothers Friends of the Elderly project, along with the Ford C3 grant and support from an alumnus, takes that a step further. It gives us the opportunity to deliver a project that will have a lasting impact on our community. As our population ages, it is so important that we provide ways for them to stay active in the community, and this project will provide Little Brothers Friends of the Elderly with the tools necessary to assist them for many years to come."
Rick Berkey, Director of the Enterprise Program at Michigan Tech, highlighted the educational impact of this partnership. "The Ford Motor Company Fund serves as a catalyst for 'making lives better' by connecting unmet community needs with financial resources, with students serving as the vital link between the two. What a rewarding opportunity for students in the ITOxygen Enterprise to be able to harness their ideas, energy, and talents for the benefit of our local elderly community. The Ford C3 program's hands-on approach to building sustainable communities aligns well with the Enterprise Program's team-based, experiential learning model." 
About Ford College Community Challenge
Through the Ford College Community Challenge, Ford Motor Company Fund aims to support colleges and universities as they work with students to design and develop tangible community projects that address critical local needs in new ways, with a focus on helping the community become a more sustainable place to work and live.
About Ford Motor Company Fund:
Ford Motor Company Fund is the philanthropic arm of Ford Motor Company. Ford Fund works with community and global partners to advance education, safe driving and community life. Ford Motor Company Fund has operated for more than 67 years with ongoing funding from Ford Motor Company. Ford Driving Skills for Life is free, interactive, hands-on safety training focused on skill development and driving techniques, while addressing inexperience, distractions and impaired driving. Innovation in education is encouraged through Ford Blue Oval Scholars, Ford Driving Dreams, Ford Next Generation Learning and other innovative programs that enhance high school learning and provide college scholarships and university grants. The Ford Volunteer Corps enlists more than 30,000 Ford employees and retirees each year to work on local projects that strengthen their communities and improve people's lives in more than 40 countries around the world. For more information, visit https://www.fordblueovalnetwork.org/medical-transportation-management-system-michigan-technological-university.