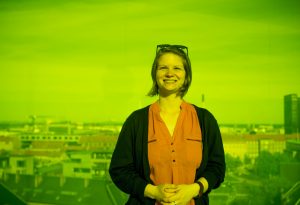 Hannah Cunningham, a senior majoring in biomedical engineering at Michigan Tech, has been working with kids since she was in high school. Volunteering several times at the Society of Women Engineers' annual Invent it Build It event for middle school girls was a natural thing for her to do. She took part while attending SWE conferences in Nashville, Philadelphia, and most recently at the National SWE WE17 Conference in Austin, Texas.
Q: What's it like to volunteer for Invent It Build It?
A: I've had a few different roles. I've worked directly with the girls as a table leader, I've staged materials during the event, and been a "floater" who simply fills in where help is needed with things like registration, grabbing forgotten supplies from the hotel, or pouring oil into cups.
I had the greatest interaction with the girls as a table leader. My primary job was to direct my table of four or five girls through the two activities during the day, while making sure they were thinking critically about the engineering challenge and developing their engineering skills. Luckily, they were middle schoolers, so it was easy to talk with them and learn more about them.
Q: Do you see yourself in any of the participants?
A: The girls who attend are local to the city where the conference is being held. For the most part they're very similar. They don't really have any idea what they want to do, but engineering could be their future. At the event they work together on engineering challenges with varying levels of teamwork, but all are capable of providing something to the challenge.
At that age it can be difficult to see your own contribution. It's even more difficult to respect your own work without comparing it to everyone else's. This event gives them a chance to build one thing as a team, with each participating in some way.
I try not to remember myself as a middle schooler, but some of the girls definitely remind me of myself. When faced with the project/challenge, they work at it, and work hard, until they've come to final product.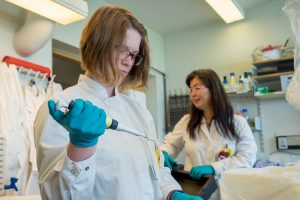 Q: Are you involved in any other engineering outreach?
A: While at Michigan Tech I have taught various courses for first and second graders through the Center for Science and Environmental Outreach led by Joan Chadde-Schumaker. When I teach these classes, even if the topic is not related to engineering, such as wildlife exploration, I always make sure to develop a project to include engineering. I believe engineering projects challenge kids' creativity, teamwork skills and technical skills. Engineering projects are fantastic for any classroom setting and the supplies can be simple, recyclable materials.
Q: What would you like to do when you graduate?
A: I am due to graduate with a BS in biomedical engineering this Spring (!). I plan to pursue an accelerated master's degree in Kinesiology next year. I wan to finish my research and learn more about biomechanics. I'd like to become involved in a company or university that will allow me to develop and/or research products that can be beneficial for human health. I'm interested in biomechanics, so anything dealing with treating, modifying, or enhancing human movement is fair game.
Q: How has being involved with SWE impacted your life so far?
A: I've learned about the many different roles women can have in engineering. SWE has helped me develop my skills as a professional, by offering networking events with professionals and businesses. My own educational path has slowly directed me away from engineering, but I still feel strongly that I can still be involved even if my job title isn't "engineer".