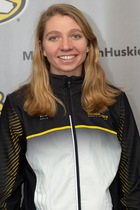 In recognition of her scholarly achievements, the Department of Mechanical Engineering – Engineering Mechanics has selected Amanda Kautzer for the 2019 Department Scholar Award. She was selected from eight strong candidates nominated by ME-EM faculty. Kautzer will be recognized at the 25th Annual Student Awards Ceremony on Friday, April 19.
Kautzer has also been nominated for the Provost's Award for Scholarship, with enthusiastic support from her enterprise adviser Brett Hamlin and her research supervisor Rupak Rajachar.
Kautzer's achievements include:
Pursuing a dual major in biomedical engineering and mechanical engineering
A 4.0 GPA
A varsity athlete, competing nationally and internationally with the Michigan Tech Nordic Ski Team, where she most recently won the 2019 Central Region Skiing Championship
Active in the GEAR Enterprise supervised by Brett Hamlin (ME-EM)
Actively engaged in research in the Biomaterials Engineering Lab supervised by Rupak Rajachar (BioMed)
Awarded a Summer Undergraduate Research Fellowship (SURF); the results of which she presented at a poster session during the 2017 Annual Biomedical Engineering Society (BMES) Conference in Phoenix, Arizona
Thanks to everyone who submitted nominations, we will consider the nominated students not selected for other student awards and recognitions.