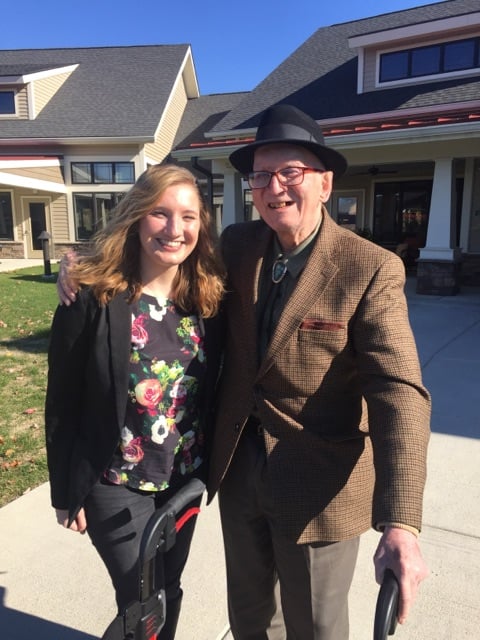 by Mark Wilcox
Michigan Tech and the honors college that bears his family name are mourning the passing of Frank Pavlis. The alumnus, benefactor and friend of the University died Friday, Aug. 24 at Legacy Place Cottages in Allentown, Pennsylvania. He was 101.
Pavlis was raised on a farm in northern Lower Michigan and was the first in his family to graduate from college. He finished at the top of his class with a degree in chemical engineering from what was then the Michigan College of Mining and Technology. Pavlis' success in Houghton led to a fellowship from the University of Michigan where he earned a master's degree.
Following college, Pavlis turned down a job offer from Shell Oil to become the first employee of a small new Detroit Company called Air Products. Pavlis was tasked with the design and construction of a prototype processing plant to separate oxygen from atmospheric air. The project was completed a year later with Pavlis as the chief engineer. Air Products was credited with making a significant contribution to Allied success in World War II. Today, Air Products and Chemicals Inc., now headquartered in Allentown, Pennsylvania, has more than 19,000 employees in 55 countries with annual revenues of about $10 billion.
Pavlis rose through the ranks, joining the company's Board of Directors in 1952 and serving as vice president for engineering and finance before retiring in 1980 as vice president for international/world trade. He is said to have traveled around the world five times in his lifetime.
Throughout his professional success, he never forgot Michigan Tech. The University responded by presenting him with an honorary doctorate of philosophy. He received the Distinguished Alumni Award in 2009 and is a member of the University's McNair and Hubbell Societies. He was the principal benefactor of the Pavlis Honors College which began in 2014.
Lorelle Meadows, dean of the Pavlis Honors College, reflected on what Frank Pavlis means to Michigan Tech.
"Frank was a visionary, foreseeing the value of a global education for the college graduate of the 21st century," Meadows says.
"He so generously gave of his time and resources to encourage our students to reach outside of their comfort zones and challenge themselves to attain their full potential as professionals and citizens of the world."
Pavlis was preceded in death by his wife of 55 years, Ethel, in 2002. The couple had no children.
Funeral services for Frank Pavlis will be held at 4 p.m. Monday, Sept. 10 at the Kingdom Hall of Jehovah's Witnesses in Macungie, Pennsylvania. Contributions in his memory can be made to Jah Jireh Homes of America – Allentown, 2051 Bevin Dr., Allentown, PA 18103. Donations received will be used to fund charitable care at Legacy Place Cottages.
Pavlis will be laid to rest in the small Michigan cemetery where his wife, parents, grandparents, brother and sister are buried.
"We will all miss Frank greatly," Meadows says. "But his legacy will live on as we continue to put his vision to work to graduate students who will go out—ready and empowered—to make their unique contributions to society with understanding, vision and a commitment that honors his life."
For more information about Frank Pavlis or to watch a digital history of the Honors College benefactor visit mtu.edu/honors/about/frank-pavlis.