The 25th Annual Student Leadership Awards were held Friday, April 19 in the Memorial Union Ballroom. The Student Leadership Awards celebrate and reward the individual and group efforts of students involved in organizations across campus. There are awards for student employees, student organizations, programs and more. Among the awards that were presented and announced at this year's ceremony, five of the winners and ten of the nominees were Pavlis Honors College students.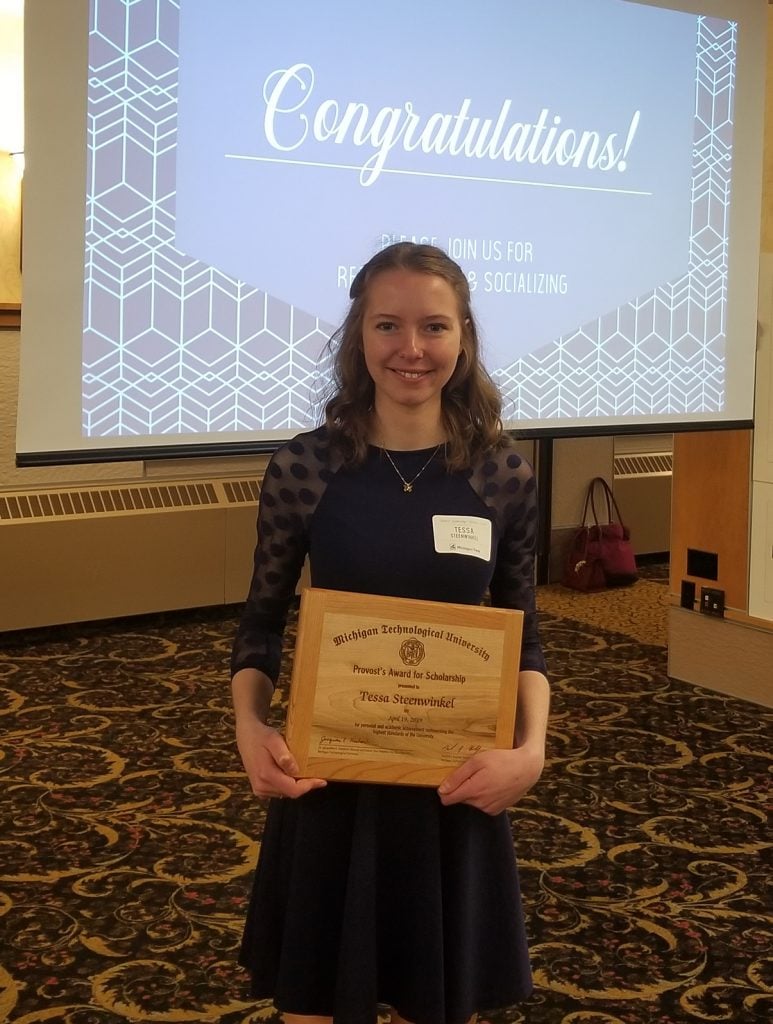 Tessa Steenwinkel, nominated by the Department of Biological Sciences, was awarded the Provost's Award for Scholarship. The Provost's Award for Scholarship is given to a student who best represents student scholarship at Michigan Tech. This outstanding student is considered excellent not only by academic standards, but also for participation in research scholarship activity, levels of intellectual curiosity, creativity, and communication skills. Steenwinkel was also nominated by the Pavlis Honors College for the Rising Star of the Year.
Logan Alger, nominated by the Pavlis Honors College, was awarded Rising Star of the Year. Rising Star of the Year is awarded to a student that shows great potential for leadership and who attempts to develop themselves personally in everything they do. Logan is currently working on his honors project in which he is developing a mentorship program for Pavlis Honors Pathway students.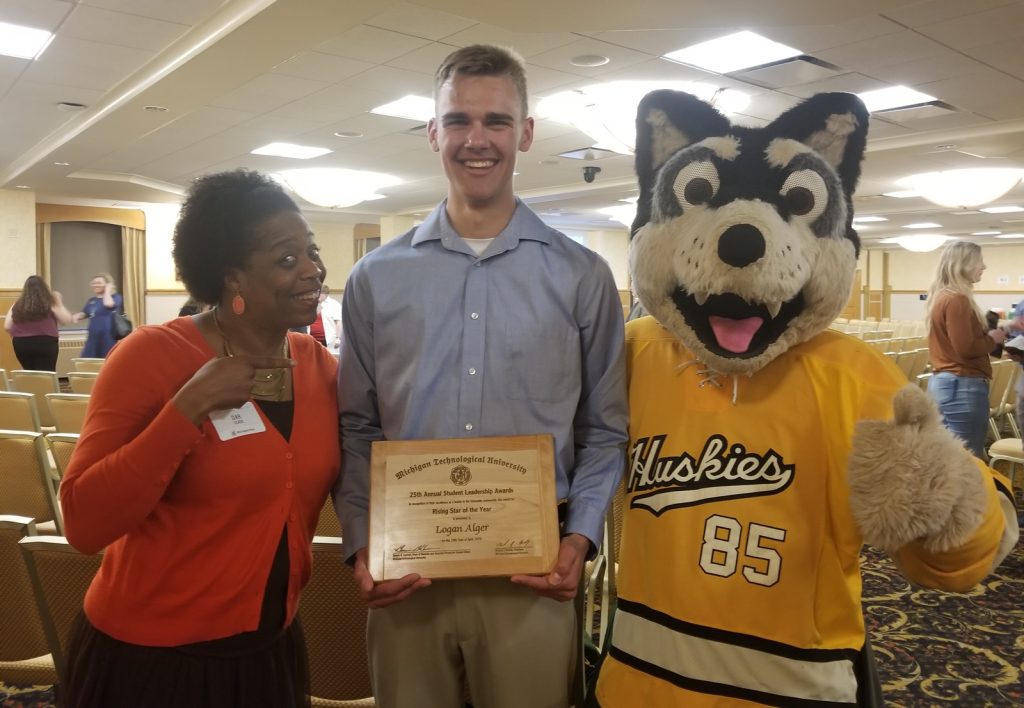 Elise Cheney-Makens was awarded the Dean of Students Award for Service and also Exceptional Community Service Project. Elise volunteered at the Ronald McDonald Home in Rochester, MN to support critically ill children and their families during the summer 2018 while she was a research intern at Mayo Clinic. Giving back in her own community of Houghton, she developed the Science Fair Mentoring Program to help 4th and 5th graders at Houghton Elementary plan, develop, and execute their science fair projects. Elise, in addition to creating this program, was responsible for recruiting 20 undergraduate volunteers. Elise has also volunteered as a Young Women Leaders Program mentor (a Center for Diversity and Inclusion program) for a year, working with middle school girls to develop leadership skills.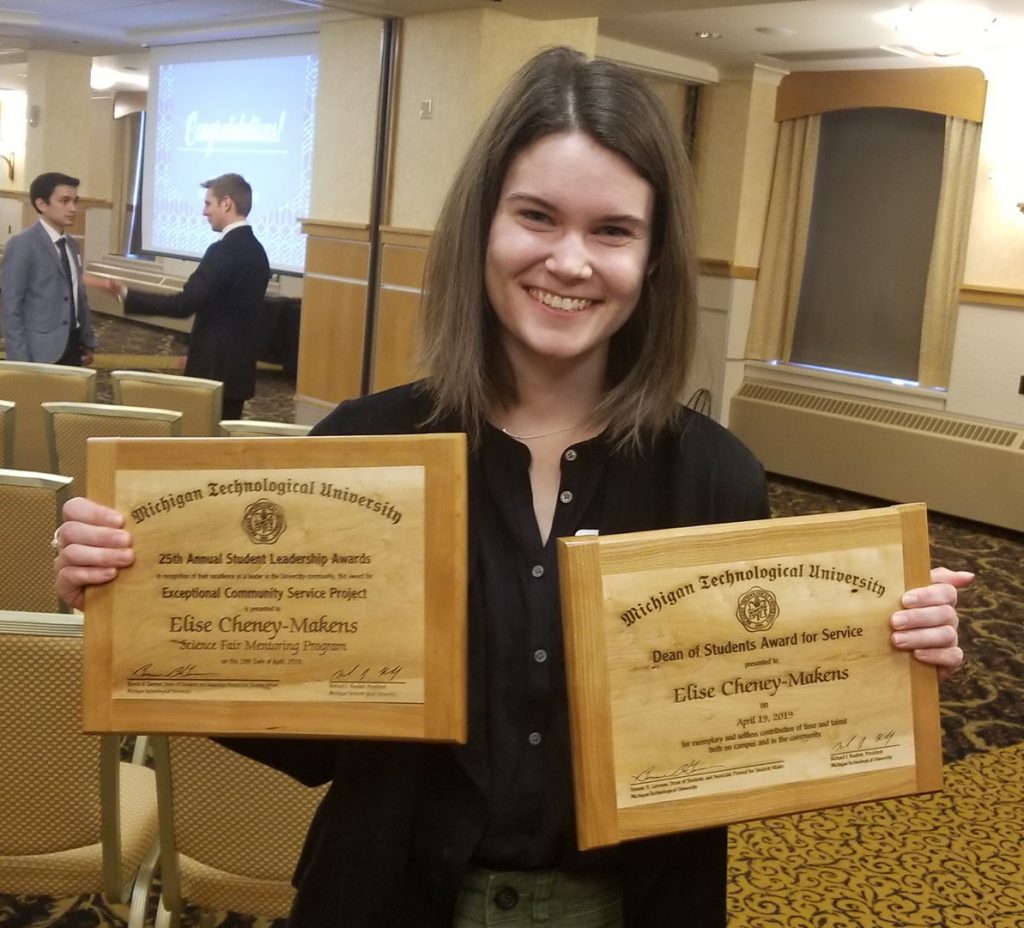 Magann Dykema was awarded the Outstanding Future Alumni Award. This award recognizes the contribution of a student volunteer who supports the Alumni Association's mission of "Celebrating Traditions. Creating Connections." Dykema demonstrated an outstanding commitment to the success of Tech traditions during her time on campus. She was also nominated for the Exceptional Enthusiasm as a Student Leader award. Magann is graduating this semester with a bachelor's degree in Civil Engineering. She is then headed to the University of Wisconsin – La Crosse to start a master's program in Student Affairs Administration.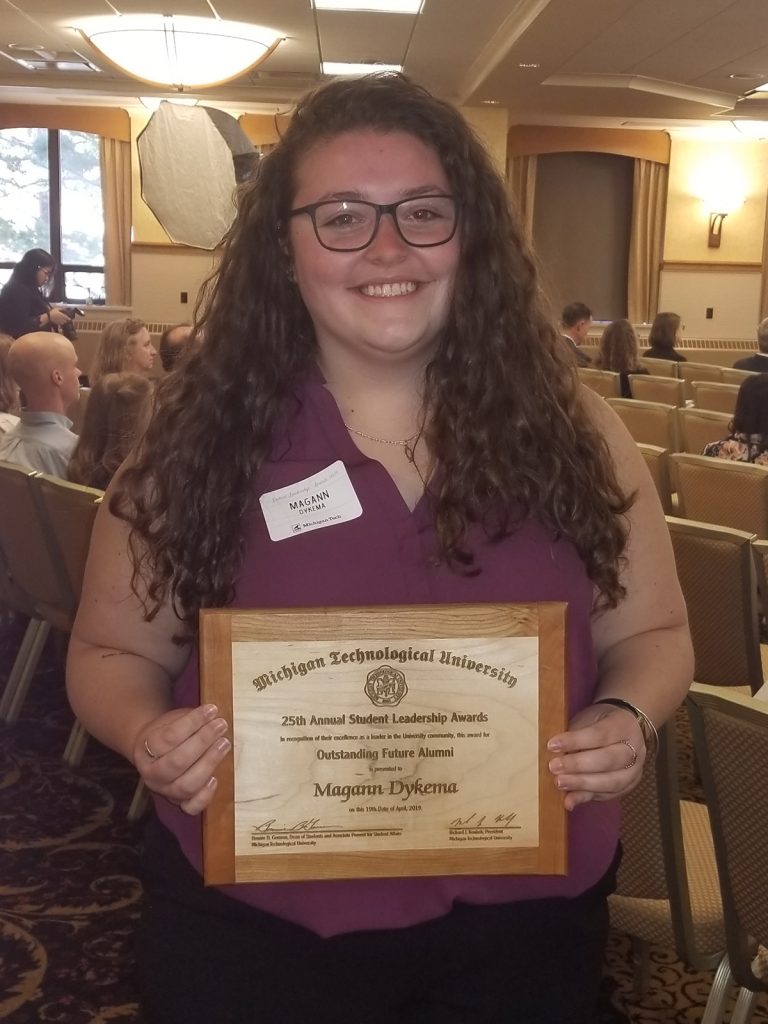 In addition to our winners, Pavlis would also like to acknowledge the following nominees:
Cameron Philo was awarded Departmental Scholar by the Pavlis Honors College and therefore nominated for the Provost's Award for Scholarship

Clara Peterson was awarded Departmental Scholar for Chemical Engineering and therefore nominated for the Provost's Award for Scholarship

Joshua Jay was nominated for Student Employee of the Year

Marcello Guadagno and Corrina Kostrzewa were nominated for the President's Award for Leadership
The Undergraduate Research Symposium winners were also recognized at Friday's Award ceremony. Ceily Fessel Doan (environmental engineering) took first place for her research, Comparison of Nannochloropsis and Chlorelle Vulgaris Algae to Energy Efficiency in the Rio Grande Watershed. Jacob LeBarre (chemical engineering) placed second for his research entitled, Improvement of Virus Purification Method using Cation Exchange Chromatography. Third place was awarded to Pavlis Honors College student Kaylee Meyers (biomedical engineering) for Nitric Oxide Releasing Composite Hydrogels for Tendon Repair Via Matrix Metalloproteinase Controlled Pathways.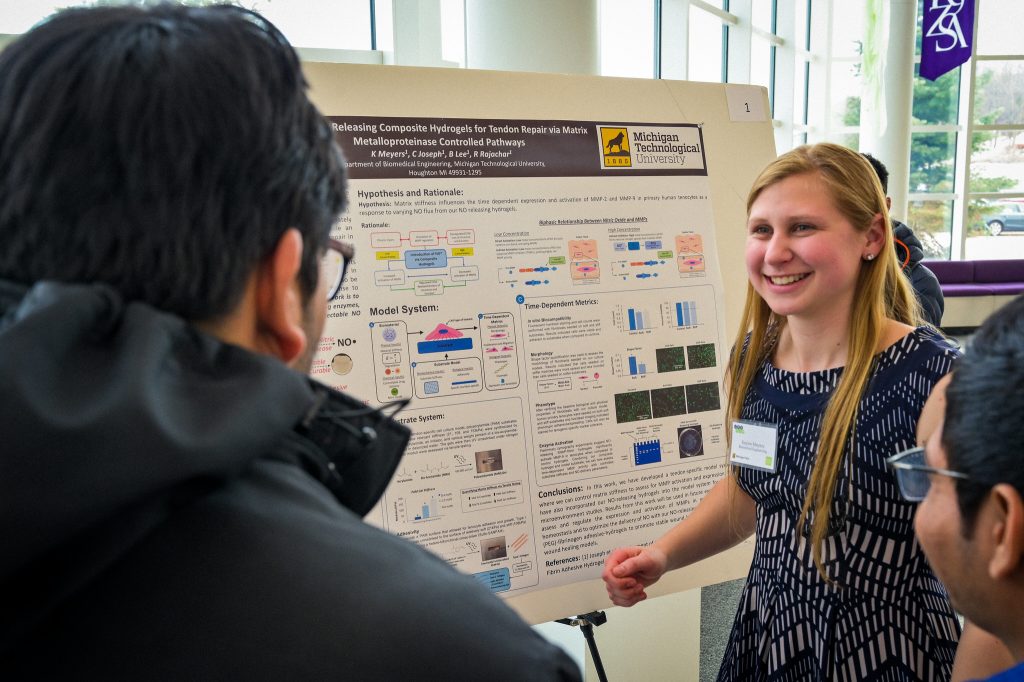 The Pavlis Honors College would also like to acknowledge our 2019 Dean's Scholarship Award recipient, Madi Vachon. Madi is a very active member of the Pavlis Honors Ambassadors group. She volunteers her time to design, plan, and implement recruitment efforts to grow the Pavlis community. Madi goes above and beyond to engage with students on a meaningful level which has significantly added to our enrollment and retention. Thank you for your continued support Madi! The Pavlis Honors College Dean's Scholarship is awarded annually in the amount of $1,000 to recognize an Honors student's outstanding commitment to our programs and pathways. 
Congratulations to all of the award nominees and winners.