By Amy Karagiannakis
Five student teams from Michigan Tech recently traveled to Central Michigan University to compete in the New Venture Competition. The seventh annual New Venture Competition took place on Friday, March 24th and was co-sponsored by the Innovation Center for Entrepreneurship (ICE) within the Pavlis Honors College at Michigan Tech. A total of 29 student teams competed: 24 from Central Michigan University, four from Michigan Technological University and one team with members from both universities. Students pitched their businesses to panels of experienced entrepreneurs through three consecutive rounds.
Multi-Dimensional Manufacturing led by Nick Dubeil (Mechanical Engineering) and Morgan Crocker (Scientific and Technical Communication) along with their product, The Metaloid, won Best Overall Venture which comes with $30,000 and a year of mentoring support from Blue Water Angels in Midland.  Dubiel and Crocker were invited to pitch their business for investment to Blue Water Angels at a pitch night the following week as well. Jim Baker, Executive Director of Innovation and Industry Engagement at Michigan Tech, served as Dubiel's mentor for his participation in the competition. "Nick and Morgan's success is a great example of the hands-on nature of the Michigan Tech experience and the resourcefulness of students who choose to come here. Their path to winning began when Nick got his hands dirty and built a 3D printer to demonstrate the specific advantages of his ideas over alternatives. They followed their technical validation by leveraging resources within the Pavlis Honors College and the Entrepreneurs Club to develop a compelling, and winning, business model and pitch," shared Baker.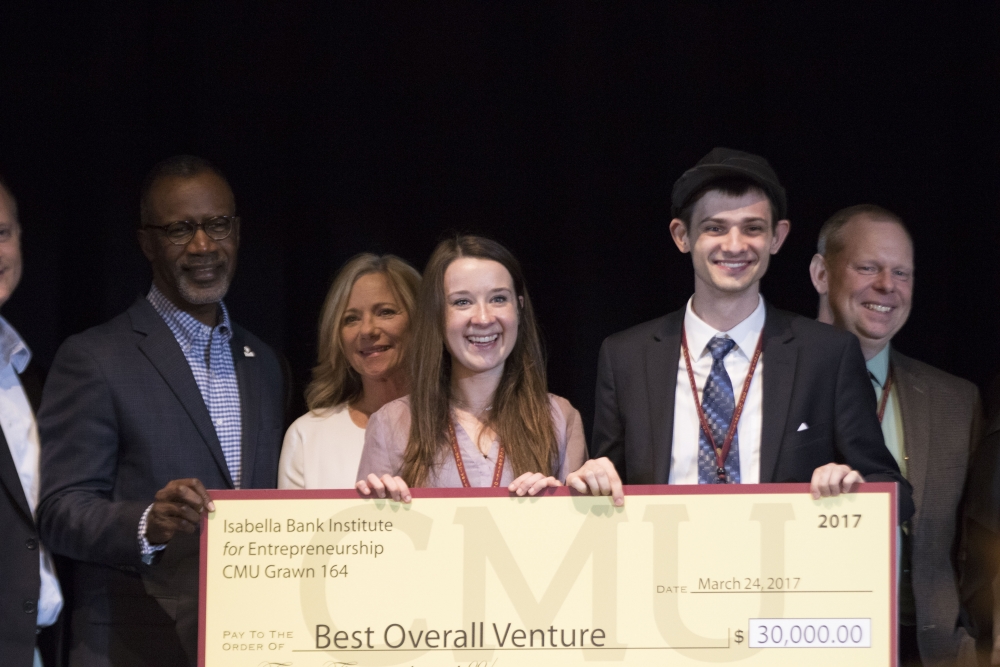 The core themes of CMU's New Venture is the hands-on approach to proving that your product works and providing a business model that demonstrates an understanding of concepts that will attract investors and buyers. Dubiel and Crocker covered both criteria, enabling their win and attracting interested investors in the process. Ron Beebe, principal owner of Euclid Industries and founding member of the Blue Water Angels said, "I think the passion that (Dubiel) has for his product was probably the most significant factor. I invest in people. I think (Dubiel) is very smart, and he's incredibly passionate about what he's doing, plus it's a good product."
Dubiel developed his own 3D printer when he became frustrated with the inefficiencies of current 3D printing technology. By improving on the nozzle-based material delivery hardware and using temperature-sensing technology, Dubiel says The Metaloid can print eight times faster than conventional 3D printers currently on the market. "I was not expecting to do as well as I did in this (competition)," Dubiel said. "I have a lot of new decisions to make, but it will be fun, because I didn't anticipate any of this." He plans to begin selling his product at a price of $3,300.
Dubiel and Crocker participated in Michigan Tech's National Science Foundation I-Corps Site Program in January. Directed by Mary Raber, Assistant Dean of the Pavlis Honors College, I-Corps is a team-based program structure that was developed through a partnership between the National Science Foundation (NSF) and successful Silicon Valley entrepreneurs. The workshop provides an introduction to the Lean Start-up business development methodology which focuses on getting out of the lab and using the proven tools of Customer Discovery and the Business Model Canvas to evaluate the commercial potential of innovative technologies. Michigan Tech will be holding the next I-Corps Site workshop in August.
This is the 7th year of the New Venture competition and the 6th year of Michigan Tech's partnership with CMU. Last year, Michigan Tech had two category winners and a pitch competition win totaling $21,500 in prizes. Michigan Tech's Innovation Center for Entrepreneurship (ICE) within the Pavlis Honors College continues to be an excellent resource for students looking to start their own business or bring new ideas or concepts to the next stage of development. The mission of the Center is to harness the potential of the Michigan Tech campus community to innovate, develop, and implement ideas and inventions by building and maintaining a strong and integrated ecosystem with a cohesive set of entrepreneurial and innovation resources to enable success. Students interested in harnessing their potential to innovate, develop, and implement their ideas and inventions are encouraged to stop in the Pavlis Honors College (M&M 722) to learn more about ICE and all of the resources available to them. A schedule of upcoming student innovator and entrepreneur competitions can be found here.