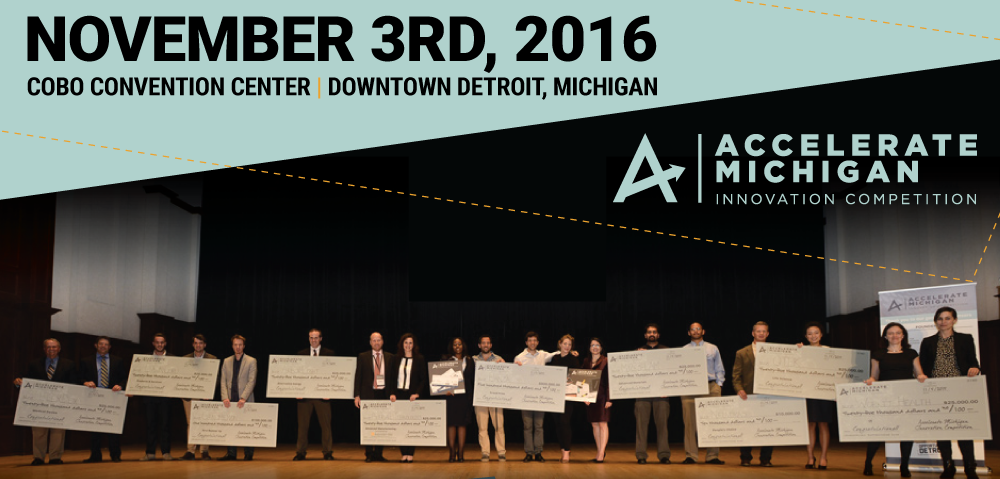 The Accelerate Michigan Innovation Competition is one of the largest business competitions in the country celebrating its seventh year highlighting the best and brightest early-stage business to regional investors. The competition continues to showcase the state as a powerhouse for business opportunity and the next generation of technology.
Paul Jacques, Director of Community and Student Engagement at Spartan Innovations said, "Student Accelerate is an incredible opportunity for Michigan's young entrepreneurs to step out and take risks. Today's semi-finalists come from colleges and universities all across Michigan and represent the top student-based startup ideas. I'm honored to announce our 2016 Student Accelerate Michigan Class."
Seventy student companies applied to compete in this year's competition from universities across Michigan including Central Michigan University, Grand Valley State University, Michigan State University, Michigan Technological University, Northwestern Michigan College, Northwood University, University of Michigan, Wayne State University, and Western Michigan University.
Out of the 27 semi-finalists that were selected to compete for up to $20,000 in cash prizes, two of the teams were from Michigan Tech and both have ties to the Pavlis Honors College. Kyle Ludwig, a University Innovation Fellow and PHC Custom Pathway student, is a member of the team of student founders for Tru, which is developing tools to enable healthy meal planning. Emmet Eurich is a member of Vacu-Shot which is developing archery technology suitable for disabled people and safer for everyone. Emmet and team member Sankalp Benwa are both members of the Consumer Products Manufacturing Enterprise.
The competition will take place in Detroit, MI this Thursday. We wish Kyle, Emmet and Sankalp the best of luck this week! Be sure to follow us on Facebook and Instagram for live updates throughout the day.